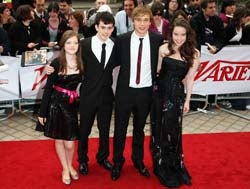 England's National Movie Awards at the Royal Festival Hall made for a nice change from the VMAs. Which is to say, everyone didn't look like a bunch of deranged prostitutes dressed by Salvador Dali. In fact, The Lion, the Witch and the Wardrobe kids, Emma "Hermione Granger" Watson, Olivia Thirlby and more looked classier than all of The Hills combined! A VMA antidote, after the jump!


The Good:
Olivia Thirlby looks like anything but the wackness! I know, I know.
Who doesn't love saying "blush charmeuse?" Rachel McDowall does.
Wow. Emma Watson is seriously channeling Aphrodite, girdle and all!

I want a Scotsman. The Bad:
Phyllida Lloyd's shirt/tights combo is kinda community Shakespeare.
I wish young girls like Anna Popplewell would start dressing their age a bit more.
Maria Bello looks amazing, also like she's wearing a mermaid costume.
Getty" />