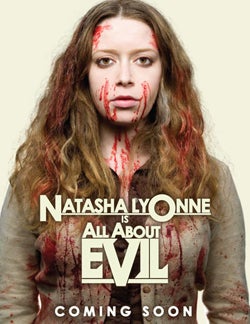 The teaser poster for the horror comedy All About Evil has been released, and it's slightly reminiscent of another photo of the film's star, Natasha Lyonne. The film also features Cassandra Peterson—aka Elvira—sans makeup and cleavage.
Written and directed by Joshua Grannell—a popular drag performer (Peaches Christ)—All About Evil is all about:

A mousy librarian inherits her father's beloved but failing old movie house. In order to save the family business she discovers her inner serial killer - and a legion of rabid gore fans - when she starts turning out a series of grisly shorts. What her fans don't realize yet is that the murders in the movies are all too real.
Shot on location in San Francisco, the cast is certainly gay friendly: Along with Lyonne and Peterson, it also features John Waters' regular Mink Stole, and Patrick Bristow (the dance instructor from Showgirls). No release date has been issued, as of yet, nor has a trailer been released, although the following stills from the film were made available. Check out Elvira au naturale:

'All About Evil' Poster- Natasha Lyonne Has Finally Gone Nuts [Pretty Scary]