The ivory-colored couch Natalie Morales is sitting on is so deep, I briefly wonder if she'll need help getting up, having assumed the posture of someone in a pool floaty or perhaps being enveloped by a large cloud of meringue. Morales wears sneakers, jeans, and a t-shirt when we meet at the Baccarat Hotel—an establishment fancy enough that the room we're in, which has high ceilings and chandeliers made of fine crystal and crimson-red carpet, is merely the Petit Salon, not to be confused with the Grand Salon.
"I have a real aversion to the idea of anyone knowing who I am," Morales says. Getting recognized on the street is one thing, but "when people follow you to your car, [that's when] it gets creepy." She doesn't blame the fans. "I think people are like, I have a camera in my pocket and I need to prove I was here when this person was here." But Morales—who played Lucy, Tom Haverford's girlfriend on Parks and Recreation—laments our cultural fascination with taking "a terrible selfie" together with celebrities, for bragging rights on social media. "There's nothing behind that," she says.
Her wish for lasting anonymity looks increasingly unrealistic. Starting today, Morales—who has also been on White Collar and appeared in The Newsroom, Girls, and The Santa Clarita Diet—will star in a new multi-camera sitcom on NBC. Abby's, airing Thursday nights just after Will & Grace, revolves around the titular character, who runs a (probably illegal) neighborhood bar in her backyard, and her friends who hold court there.

Like Morales, Abby is very private, bisexual, and Cuban, but the show is hardly about the latter two. When Abby's sexuality is introduced, it is almost immediately then relegated to the background. "We did that on purpose," says Morales. "Her being Cuban, her being bi, her being a veteran are all just things about her." As she talks, Morales sounds wary of stories about minorities that emphasize just how hard it is to be a minority. "We've seen those stories a lot, and those stories are important to tell," she says. "But that keeps putting you in a corner."

In real life, growing up Cuban in Miami made Morales feel like a part of the majority. "I think I grew up as entitled as like, a mediocre white man," she says, and laughs. "And that's a lot of entitlement. I feel like I still have some of that." Her voice pitches up on the last word, as if maybe she's asking a question, but she's not. "I haven't been beaten down entirely."

G/O Media may get a commission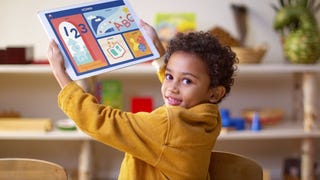 30-Day Free Trial
Homer Learn & Grow Program
Later, Morales will shoot Late Night With Seth Meyers; the next day, she'll see Phoebe Waller-Bridge's play Fleabag. I ask Morales if she watches Killing Eve, and she begins to look incredibly uncomfortable. Wordlessly, she slides her phone over and shows me her last text, asking if the blonde woman sitting sitting maybe 20 feet away from us is Killing Eve's Jodie Comer. (I look but can't tell.) Before she leaves New York, Morales will shoot an interview for Talk Stoop, a show that plays inside of New York City cabs. "I'm very excited to be super weird on a cab show!" she blurts out, and she's either genuinely excited, or can't handle the idea of being in the Petit Salon, breathing the same air as maybe-Comer anymore. Then Morales's publicist informs us Talk Stoop is not shot on a real stoop, which is a crushing blow. It might also be the only new thing Morales will learn today; as we float out of the Petit Salon, still chattering, she casts one last look inside and closes the door.