Our favorite traitor to the sisterhood Marriane Garvey is up to her old tricks again, in today's NY Post. Who's her target this time? Find out after the jump.
Step up Naomi Campbell, it's your turn to feel the lash of Marianne Garvey's unrelenting tongue.
Now we'll accept that it was certainly worth a mention that phone-throwing anger-mismanaged Naomi turned up to her first day of community service looking like this:
and wearing six-inch stiletto heels, to boot. Yes. It's definitely worth a mention. Let's see how Marriane goes about this 'mention'.
"ll-tempered temptress Naomi Campbell turned community service into a one-woman fashion show yesterday, strutting for cameras on her way into and out of a Lower East Side Sanitation depot like she was back on the catwalk.
Then Campbell swept floors all day at the Department of Sanitation offices at Pier 36 - the feisty model paying her debt to society for hurling a cellphone at her maid.
G/O Media may get a commission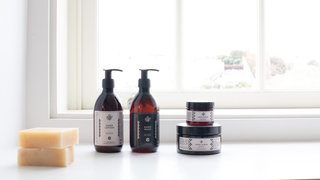 Exfoliate and Hydrate
The Handmade Soap Company
So far, so, well, so Marianne. Does it get better? Hell yeah!
"Campbell wore green yoga pants, stiletto boots, a black empire-waist coat, diamond-studded earrings, a newsboy cap and large, black sunglasses on her first day of real work.

At the end of her day, the claw-baring catwalker strolled out of the Sanitation office as famed fashion shutterbug Steven Klein sat atop her Cadillac Escalade, snapping pictures of her.
Oh she had the temerity to 'stroll' did she? Fuck it, Marianne, we're with you. BURN HER!

Naomi Makes Boot-y Call [NY Post]
Earlier
[Marriane Garvey Doesn't Like Female People]