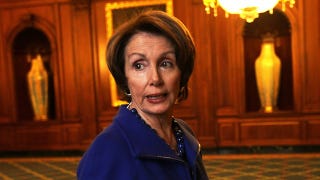 If you were frustrated by this morning's all-dude birth control hearing on Capitol Hill, you weren't the only one. In fact, former House Speaker Nancy Pelosi has some choice words for her male colleagues' lack of deference to science, medicine, or biology.
Shortly after her fellow Democrats Carolyn B. Maloney of New York, Eleanor Holmes Norton of the District of Columbia, and Mike Quigley of Illinois walked out of the hearing in protest, Pelosi told reporters that she agreed that the proceedings were indeed utterly absurd. She said,
I think it's really curiouser and curiouser that as we get further into this debate, the Republican leadership of this Congress thinks it's appropriate to have a hearing on the subject of women's health and can purposely exclude women from the panel. What else do you need to know about the subject? If you need to know more, tune in, I may, I may at some point be moved to explain biology to my colleagues.
Say what you will about the California Democrat, Nancy Pelosi is not to be trifled with. As a science teacher, I bet her tests would be absurd.