When viewing a fashion spread, you can approach the image from a variety of angles: advertising, or as art, or as part of a complicated cultural standard. How you see it depends on where you sit. (NSFW after the jump.)
The image above is by Greg Kadel featuring models R'el Dade and Mélodie Dagault. Featured along with three other provocative photos on Models.com, the image instantly sparked an online reaction - and not just because Dade was initially misidentified as Jourdan Dunn.
Much of the debate focused around two assertions that are assumed to be mutually exclusive: (1) that the images were gorgeous and (2) that the posing and framing of the black model (with bare breasts in all shots), with the slave like position was racist.
Contrary to popular belief, these two ideas can exist at the same time.
For the purposes of this discussion, let's add a bit more context, both in terms of race and gender.
G/O Media may get a commission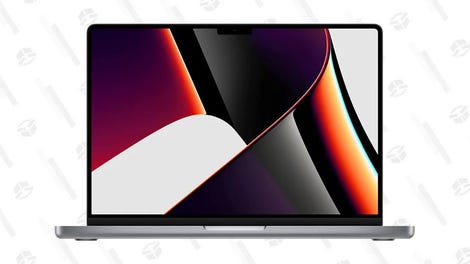 Save $300
2021 14" 1TB MacBook Pro
Approaching the image uninformed, one may simply see a striking image involving two beautiful women. And this is true, that is the image.
However, if one looks at some more of Kadel's work, we start to realize that this image, which on its own appears innovating, is actually a the next in a long line of work that focuses on two or more semi-nude girls. This shoot, called "Come As You Are," was done by Kadel last month, for Vogue Australia.
Jenna, our own formerly anonymous model, pointed me toward more of Kadel's work, explaining:
I personally find Kadel to be particularly derivative. His work is often extremely sexual, and full of nudity - which isn't in itself a problem, in fact it's common in fashion spreads - but Kadel always has his models get nude so he can depict them in a male-gaze kind of way. His work lacks that element of subversion, that subtext. And he often does girl-on-girl themed shoots. Not like Steven Klein or some other photographers, who return again and again to shooting several models at once because they're investigating themes of twinning or repetition - Kadel's schtick is much simpler. He'll just shoot two or three models together, under the pretense that they're hanging out, and getting naked. Which is such a cliché of women's sexuality in general.

Just last month he had a long story in Vogue Australia with Catherine McNeil and Abbey Lee, embodying that particular male fantasy. And it was such a rote Kadel editorial that the only reason it even caught my eye was because Vogue Australia Photoshopped out Abbey Lee's nipple piercings.
Other editorials by Kadel seem to follow the same lines of nudity, near nudity, and sexyface. So, adding a little additional context can change how we feel about what we see, and what an editorial represents.
Let's head back into why the images were perceived as racist.
First, it is important to understand that discussions of art are not immune from conversations about racial bias. Art is not created in a vacuum, and as artists are often inspired and motivated by current events and popular societal perceptions (even if they are playing a part in breaking with convention) it is an area ripe for discussion. As Mimi wrote, in response to a commenter who assumed she was ignorant of art history because she brought up the racist and classist implications in a Nylon photo shoot:
[T]he author of the comment called us stupid, too preoccupied with Gucci (as if) to know anything about art (which fashion, the author asserted firmly, was not). Furthermore, she scolded, we should "educate" ourselves so we might better recognize the "brilliance" of the NYLON editorial as an art historical reference to such canonical images like Edouard Manet's Olympia (1863) (Fig. 1) and not a comment on racial thinking or class inequities at all. [...]

[Y]es, the editorial certainly does reference a canonical theme in European art history, and no, this hardly excuses the editorial. If anything, it makes the editorial that much more a poignant example of the long duration of racisms and their entanglements with other vectors of power, including gender, sexuality, empire and labor. That is, what this comparison makes too obvious is that colonial and imperial histories of conquest and aesthetics continue to exert themselves in the present.
Precisely. Art can exert its influence on society, but society also exerts its influence on the artist. Thus, when we are discussing perceptions of fashion photographs, it is important to understand that an artist brings their viewpoint into their work. So if the artist is a misogynist, we receive rehash after rehash of dead or disembodied women. If the artist likes to objectify the female form, that enters into the work as well. And if the artist is influenced by racism - which includes everything from fetishization to omission - that is also reflected in the work.
As Jenna wrote last week, in her post about Caged Black Women, artist Jean-Paul Goude saw black women through a very specific lens, and that is how they manifested in his pictures:
The French artist Jean-Paul Goude shot that last image of Jones; the two were involved in a tempestuous and sometimes violent relationship. The objectification and exoticization of black women isn't incidental to Goude's art: it's the whole point. "Blacks are the premise of my work," the artist told People in 1979, "I have jungle fever."

In case anyone thought that was a joke, Jungle Fever was also the title of Goude's 1982 book. The shot of a caged Jones made the cover.

So it's no surprise that Goude shot Jones surrounded by raw meat, under a sign that reads "DO NOT FEED THE ANIMAL."
Over at Racialicious, I received a submission from a young Asian American model. (This is unpublished, as we are still working on the edits.) This model submitted a rant about trying to work when every other comment from photographers had something to do with the word geisha. She noted there was nothing in the shoot that would even indicate such a look, but her Asian face led people to automatically place her in a racialized context.
In addition the artist's own sensibilities and ideas, societies perception of minorities also strongly figures into how our images are presented. Since black women are often stereotyped as hard, ferocious, ghetto, or primitive, it is rare to see black women being shown in a way that highlights a soft beauty. Instead, we are often presented as color contrast, or other, more animalistic manner. After all, how many variations on this type of photo shoot have we seen black models participate in? Here's a shoot from the new Bazaar:
The blogger at Le Chic Batik shares in the boredom, saying:
I am so bored with the image of black models running free in Africa with animals, or even, black models as animals themselves. I am also bored with this picture of Africa as a densely unpopulous, primitive place with animals as its one valuable offering. I was surprised that this was shot by Jean-Paul Goude because I'm familiar with his super-modern and edgy photographs of Grace Jones, there is certainly no modernity here.
But it's about more than just boredom.
It's about the roles of black women in fashion being limited to animals, sex objects, and advertising, but banned from higher fashion and catwalks. It's about how we understand racism. There is both the blatant...
Bethann Hardison was so angered by the situation that she emailed Iman writing "Did you realize that over the last decade black models have been reduced to a category?" The two called a series of town-hall style meeting titled "Out of Fashion: The Absence of Color" held at the New York Public Library. Countless models told stories about being rejected for jobs, not because their particular "look" or walk was a problem, but solely based on the fact that they were black. Liya Kebede shared that she has had "experience with people who did not want to work with me because I was black..really, truly." In any other industry, that would be a racist remark, and you would be taken to court for it!" After those meetings the wheels started to turn and the issue garnered more attention.
In the U.S., Cory Bautista, the director of the racially diverse New York Model Management, and judge alongside Tyson Beckford on the Bravo series 'Make Me a Supermodel', is reluctant to attribute the problem to racism.

'In an industry where homophobia is near nonexistent, I can't think there would be any bigotry towards African Americans,' he said. 'I think it has to be designers in their artistic vision seeing clothes on a certain skin type.'
We, as consumers, have a responsibility to looking at these images critically. Yes, to some, it will always be just fashion.
But in a context where we can easily pick out patterns that fashion editorials will fall into when featuring a model of color, and the relative lack of opportunities for nonwhite models to be seen in a variety of contexts and to challenge what contexts they are seen in makes finding lasting work and a varied portfolio difficult, we cannot pretend that these images are not contributing to the larger problem.
(Cover Image pulled from the Make Fetch Happen blog)
Numero's Sizzling September [Models.com]
Come As You Are | Abbey Lee Kershaw & Catherine McNeil For Vogue Australia's 50th Anniversary Issue [Fashion Gone Rouge]
Photography By Greg Kadel [Ben Trovato]
The Thin Line Between Art And Exploitation [Racialicious]
Background Color, Redux II [Threadbared]
Another Photo Shoot Places a Black Woman Among Animals [Sociological Images]
Model/Animal [Le Chic Batik]
Vogue Asks Is Fashion Racist? [Make Fetch Happen]
High Fashion Still a 'White Affair' [IPS]