Not unlike politicians promising to lower fossil-fuel emissions by the year 20-whenever, the head honchos of 45 music festivals and conferences have made a promise that they'll try to keep: maintaining a 50/50 gender balance on their lineups—by the year 2022.
This initiative is spearheaded by Keychange, a new program by the UK-based PRS Foundation, which helps finance new musicians and talent. Keychange's goal is empower women and decrease the gender gap in the music industry. PRS Foundation CEO Vanessa Reed celebrated the pledge in a press release:
Our focus on gender equality in 2018 aligns with the centenary for some women being given the vote in the UK. 100 years on, the push for gender parity across society continues and with increased public awareness of inequalities across the creative industries we have an opportunity to respond and commit to tangible change in music. The Keychange network of female artists and industry professionals and the festival partners' idea of establishing a collective pledge will significantly accelerate change. I hope that this will be the start of a more balanced industry which will result in benefits for everyone.

Festivals that have made the pledge include the A2IM Indie Week and NYC Winter Jazz Fest in the US, North By North East and Canadian Music Week in Canada, BBC Proms and Kendal Calling in the UK, and more.
But what's stopping these festivals from promising these changes before 2022? New talent is booked every year, and while the ink is likely already dry on the majority of 2018's festival lineups, why not put pressure on these festivals to diversify their talent by 2019? Or 2020?
G/O Media may get a commission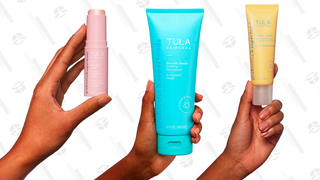 It's also worth pointing out that, while this effort is certainly valiant, there is no language in any of the Keychange's press releases that acknowledges non-binary musicians. How will a festival divvy up their 50/50 split with that glaring omission?
That said, perhaps festivals being transparent with about the gender quotas in future lineups is better than surprising their hired talent after the fact.
Last December, Moogfest announced its 2018 lineup of exclusively "female, non-binary, and transgender artists" without mentioning this vision to the talent slotted to perform. Caroline Polachek (formerly of Chairlift) dropped out of Moogfest for this very reason: "I have no issue with all-fem/gnc lineups, but that's not what Moofest is. This is a gender-mixed festival where certain artists have been marched to the front of the line and paraded out together because they're female/gnc. This speaks not to the artists or their music, but to the politics of the festival and self-congratulatory PR. To do this without permission from the artists on display is exploitative and unprofessional."
Music festivals shouldn't be a boys club, but perhaps the politics of diversifying aren't as simple as going "boy-girl-boy-girl" down the festival schedule.