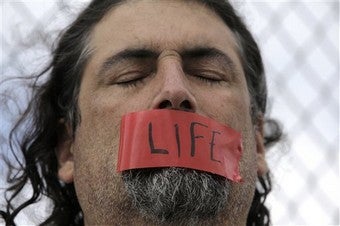 James M. Pouillon, the son of slain anti-abortion protester James Pouillon, has written that his father "didn't care about abortion" and only conducted his protests out of a deep hatred of women.
In a blog post verified as his by the Flint Journal, James M. Pouillon wrote,
It will be impossible for some to believe, but my dad really didn't care about aborton.

He did this to stalk, harass, terrorize, scream at, threaten, frighten, and verbally abuse women. He had a pathologic hatred of women: his mom, my mom, everyone.

After my mom finally left him and he lost his favorite punching bag the violence and abuse that was always contained within our 4 walls was unleased on the people of Owosso.
Pouillon's daughter Mary Jo Pouillon has voiced support for her murdered father's beliefs. At his memorial service (a service attendee is pictured above), she said, "They're talking about the babies today. That's what he'd say." James M. Pouillon hadn't spoken to his father since 2001, and obviously harbors lingering resentment — he wrote, "Owosso is now rid of a mad man." None of Pouillon's other three children have chosen to speak out, and his ex-wife died in 2001, so it's impossible to tell yet whether the rest of the family would agree with James M. Pouillon's claims. But his version of his father stands in contrast to that presented by pastor David Knox at the memorial service. Knox said,
You may not have agreed with his tactics or his methods. But you could not - not - miss his commitment or his passion. Jim shouted to the world what he was living for.
If his son is right, James Pouillon may have been living for the shouting.
James M. Pouillon Criticizes Father, Slain Pro-Life Activist James L. Pouillon, In Online Post [Flint Journal]
Slain Mich. Activist Remembered As Unwavering [AP, via MSNBC]