Facebook dispatches and Twitter updates from Haiti are helping revolutionize on-the-ground reporting, but the emotional impact of old-school moving pictures hammers the heartbreak - and horror - home. We've collected a few of the most visceral, blogged-about videos from the earthquake's aftermath.
A number of bloggers, including Andrew Sullivan, have pointed to this video of Shep Smith of Fox News discussing the smell of death at disaster sites, the mental toll a disaster of this magnitude takes on families and individuals, desperation, and looting. As the piece goes on, the reporter on the ground, Steve Harrigan, chokes up while trying discuss "being alone" at a disaster site, and Shep Shepard muses on reporting in the wake of a tragedy.
Also getting attention is a CNN video depicting a rescue team trying to save an eleven year old girl trapped under a rock. (CNN's coverage is also the subject of a laudatory piece in today's LA Times.) The video, though difficult to listen to, helps to illuminate the situation on the ground. As rescuers debate what to do, the child cries out :
G/O Media may get a commission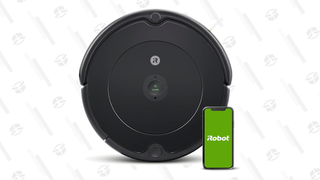 35% Off Black Friday Deal
iRobot Roomba 694 Robot Vacuum
Luckily, the rescuers were able to find another solution, and managed to free her:
Last night, CNN anchor Campbell Brown had an emotional moment on-camera, saying that, as a mother, she finds it difficult to watch the coverage:
Dr. Sanjay Gupta, CNN's Chief Medical Correspondent, went even further, treating a child with a head laceration on camera in response to calls for medical assistance. The child Gupta treated is fifteen days old; her mother died in the quake:
Another person behind the camera stepped out to help him bandage the child:
Rachel Maddow filled her program this week with those knowledgeable about Haiti. She brought on Tracy Kidder from Partners in Health, an organization on the ground in Haiti that provides perspective about health care in Haiti and what is happening on the ground. She also interviewed Michele Wucker about the changing relationship between Haiti and the Dominican Republic due to the crisis.
But the interesting guest was the Haitian Ambassador to the U.S., Raymond Joseph, who went on Maddow's show to discuss Pat Robertson's ignorant comments, and how the Haitian revolution impacted the world:
Visit msnbc.com for breaking news, world news, and news about the economy
Joseph: "What[ever] pact Haitians made with the devil, has helped the United States become what it is."
Donations: Click here. Have other videos to pass on? Put them in the comments.
CNN does it right in Haiti, but Fox drops the ball [LA Times]
"The Smell Of Death" [The Daily Dish]
CNN's Campbell Brown's Emotional Reaction To Haiti Story [Mediaite]
Video: Gupta treats injured baby [CNN]
Thursday Open Thread [Jack and Jill Politics]
Video of Tracy Kidder on The Rachel Maddow Show [Partners In Health]
Haiti, Dominican Republic - Shared Border, Shared History [MSNBC]