Six New York City mothers are suing the manufacturer of the Baby Gender Mentor Test, because the guaranteed "99.9-percent accurate" test incorrectly predicted their baby's sex.
The lawsuit claims the Acu-Gen Biolab, Inc., the Massachusetts firm that manufactured the test, delivered inaccurate results, and then refused to give the mothers a promised 200% refund, reports the New York Daily News. According to the company's website, the Baby Gender Mentor Test can "identify the presence of male or female fetal genetic materials in the mother's blood" if mothers provide a blood sample using a $25 kit, then send the kit to the lab and pay $250 for the results. "When you hear 99% accurate and 200% money back, how can you go wrong?" said Barry Gainey, the womens' lawyer. "A lot of people will jump at that."
Two of the women, Lorelei Fitzgerald and Brittany Hayes, say they were told to expect boys but then had girls, which left them "disappointed" because they had already started designing their nurseries, buying clothing and picking out names thinking they were having a boy. The suit says Hayes, "began to bond on a deeper level with her child and began to call him by his name."
Another woman, Keven Duffy, claims the suit contributed to the end of her marriage because according to court papers "Duffy's husband wanted a boy very badly." She had called the company to confirm the results and "they said for sure it's a boy" but she found out a few weeks later from the sonogram that she was having a girl. When she tried to collect her refund the company allegedly told they wouldn't pay unless there was a live birth and she sent them an original birth certificate. Then the company stopped returning her calls. Duffy said the incorrect results "caused stress" in her marriage; she and her husband have divorced.
According to Gainey, Acu-Gen Biolab, Inc. made women jump through hoops to get a refund or just refused to pay. He says employees have admitted that 10 to 20 percent of their customers have asked for refunds based on incorrect results, and a federal class-action lawsuit against the company is pending.
G/O Media may get a commission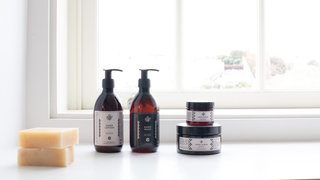 Exfoliate and Hydrate
The Handmade Soap Company
Gainey said the tests "messed with the minds" of the expectant mothers, but emphasized the mothers were not using the tests for sex selection.
"None of them would say, 'Take my baby away' or 'I don't want this baby' - they love their babies," Gainey said. "But when you rely on something and you pay for it, you have a right for it to be true."
The New York Post reports that the Baby Gender Mentor is advertised as allowing women who are only five weeks pregnant to determine the baby's sex, nine to 13 weeks before a sonogram and amniocentesis can be performed, which is usually also the cut off point for abortions.
Baby Gender Mentor Kit Doesn't Work, Say Misled Moms Suing Maker [New York Daily News]
Baby Gender Mentor [Official Site]
"Boy Blunder" Gender Test [New York Post]
Earlier: Will A New Prenatal Gender Test Lead To Sex Selective Abortion?