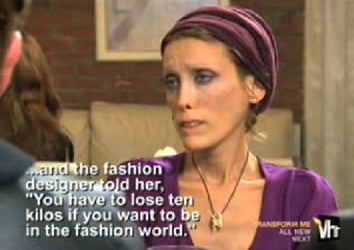 Marie Caro, mother of the late "ambassador for anorexia," Isabelle Caro (pictured at left), has killed herself.
Marie's husband (Isabelle's father) Christian Caro says Marie felt "enormous guilt" about Isabelle's death. Isabelle was taken to a hospital — at her mother's request — after complaining of a stomach ache.
Christian Caro told a Swiss newspaper that Marie "felt guilty" for having put Isabelle in the hospital. "My daughter did not want to go to that hospital." In addition, Mr. Caro claims doctors wanted to run tests and put Isabelle to sleep so she'd be "less disturbed."
The New York Daily News quotes Mr. Caro:
"They should have never done that. She died because they disconnected her from the machines. Two doctors took my wife and I separately and said, "You know, in any case, your daughter didn't want to live."
He has since filed formal complaint against the hospital. The paper adds:
In Isabelle's 2008 autobiography, "The Little Girl Who Didn't Want to Get Fat," she wrote that her mother seemed to resent her throughout her childhood.
Marie Caro, Mother Of Dead Anorexic French Model Isabelle Caro, Commits Suicide: Report [NYDN]