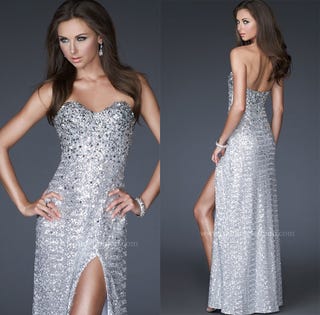 The Philadelphia-based store Dress Goddess has created what is ostensibly the priciest prom dress in the world, a $13,997 strapless gown covered in real diamonds that are hand-sewn to the dress. According to a press release:
"We have been selling prom dresses since 1969. Starting in January of each year, our customers search for the most unique prom dress ever created. The $13,997 Prom Dress delivers exactly this...exclusive one of a kind extravagance. Victoria's Secret has their $2,000,000 Bra and now DressGoddess has the $13,997 Prom Dress."
The store was obviously just trying to drum up a bit of publicity, but the sick thing about this dress is that there's some girl who's going to beg her parents to buy it for her. She could buy a far more attractive gown for $14,000, but that probably won't do, as it's not an official prom dress.