There are a lot of titles that are worth pursuing in this world: Most Valuable Player, Most Likely to Succeed, maybe even Miss Congeniality. But vying for the most expensive cupcake is one thing I cannot for the life of me wrap my head around. It's stupid, and I kind of want to set this cupcake on fire.
Le Dolci bakery in Toronto is a bakery that makes plenty of beautiful and tasty-looking treats. Their cakes are skillful and gorgeous, their macarons adorably delicious, and they even offer courses for foodies. One customer commissioned "the most extravagant cupcake possible" for his wife's birthday, and the pastry chefs at Le Dolci gave him just that. And yes, that's a pipette of Courvoisier. Considering I'm not a big fan of extravagance nor am I a big fan of the thankfully dying cupcake trend, this should go well. Here's a list of ingredients that went into the $900 cupcake:
Kona Blue Mountain coffee

sea salt from Camargue, France

organic cane sugar
Valrhona cocoa powder

Tahitian vanilla beans

pastry cream made with Krug Collection Brut champagne

Rosewood Estate honey

Normandy butter

Amadei Italian chocolate

24-karat gold dust and leaves

a limited edition Courvoisier
Not exactly things you'd find in an Albertsons, but okay. Le Dolci owner Lisa Sanguedolce described the cupcake:
'The cupcake sits in a hand-made, edible chocolate cup garnished with crunchy edible pearls and dusted with 24-karat gold flakes.

'It is adorned with a edible gold-painted branch with leaves, fondant flowers edged in gold, edible sugar diamonds and delicate hand made champagne caviar bubbles.
Champagne caviar bubbles. CHAMPAGNE CAVIAR BUBBLES.
The cupcake looks beautiful (despite the barely imperfect alignment of those little sugar pearls), the chefs did their job well, and I am pretty damn sure that thing is absolutely delicious—not that I know what the fuck Normandy butter is or does. It's glorious, it must have been a really fun project, I can appreciate the craft, and yet, I despise it.
G/O Media may get a commission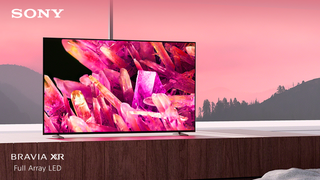 $400 off
Sony 55 Inch 4K Ultra HD TV X90K Series
Aside from all the ingredients, the shipping cost of which probably drove up the price more than anything, the one thing I will never understand is putting 24k gold on food—particularly a fucking cupcake. It's something Zooey Deschanel would do if Zooey Deschanel was an international drug lord and drove a platinum-paneled Volvo. Gold flakes is glitter for food and everyone hates glitter.
And while I definitely enjoy the idea of shitting out gold, the Tamil in me is in physical pain seeing that metal go to waste. Seriously dude, just buy your wife a $895 necklace and put it in a $5 cupcake. Something tells me y'all won't be able to tell if that sugar is organic or not.
The $900 cupcake is said to be the world's most expensive, having overtaken the $750 Decadence D'Or cupcake at the Palazzo, but I'm pretty sure Dubai's Golden Phoenix cupcake is still more expensive at more than $1000.
Jesus H. Macy, they're cupcakes.
Image via Le Dolci Bakery.