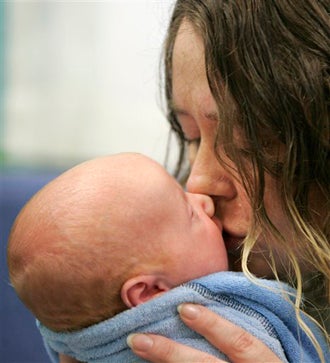 In many states, incarcerated women give birth while shackled to hospital beds, only to have their newborns taken away mere minutes after entering the world. The state of Indiana, however, is following the lead of six other states, including New York and Ohio, and investing in prison nursery programs. The Indiana program was funded through a $122,000 government grant, reports the AP, and is open to women who have been convicted of non-violent crimes, have less than 18 months left on their prison sentences, and are the legal guardians of their children. According to the AP, the number of incarcerated women has gone from 163,000 in 2000 to 210,000 as of mid-2006, which most attribute to the rising number of women jailed on drug convictions carrying mandatory prison sentences.
The extant prison nursery programs like the one at the Ohio Reformatory for women in Marysville, has seen only 11% of its graduates violate parole, while the recidivism rate among the greater prison population is 30%. The mothers involved aren't just allowed to care for their babies solo, they're also given "courses on postpartum care, child development, shaken baby syndrome and other topics," says the AP.
Kids benefit from the early bonding as well, as many children are born with incarcerated mothers suffer from higher rates of emotional and behavioral disorders. And anyway, newborns have no idea where they are — they can barely focus their wee eyes! It seems ideal to keep them with their mothers, however profligate, in a controlled environment with supervision and education, rather than thrusting them into the foster care system.
Nursery Programs Allow Imprisoned Moms, Newborns To Bond [AP via Newser]
Earlier: Baby Girls Add Touch Of Pink, Peace To Mexico's Prison System