The shocking story of an Irish home for unwed mothers has inspired worldwide outrage, and now Ireland has announced a full inquiry into all the big mother-and-baby homes of the early twentieth century. It hasn't even started, and we're already getting appalling new accusations.
The story of the former St. Mary's home for unwed mothers went viral thanks to a single, horrifying image: 800 little bodies dumped in a septic tank. It turns out that wasn't quite the case. "I never said to anyone that 800 bodies were dumped in a septic tank," Historian Catherine Corliss, whose work inspired the uproar, told the Irish Times. 796 is the total number of children who died at the home between 1925 and 1961, a period when Ireland's infant mortality was much higher. After acquiring copies of their death certificates, Corliss discovered the children had not been buried in local cemeteries; she concluded many had been buried in an "unofficial graveyard" in the back of the home.
The septic tank angle probably sprang from an anecdote she included in a 2012 article: A group of boys found a small "crypt" filled with skeletons sometime in the 70s. It might've been a sewage tank in the early 1900s, but there weren't any more than 20 bodies.
But the story didn't need gruesome flourishes to be horrifying. There were numerous such Church-run homes for unwed mothers scattered across the country from the 1920s up until the 1960s, and it says something awful about how callously these children were treated. (Note they didn't get proper Catholic burials.) And this story has opened the floodgates.
G/O Media may get a commission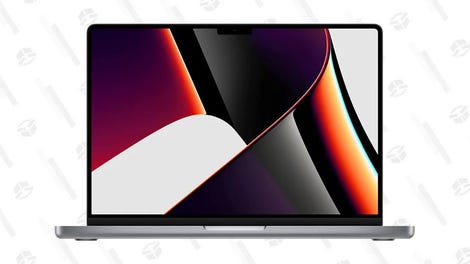 Save $300
2021 14" 1TB MacBook Pro
The Irish radio station Newstalk has acquired records suggesting that children in this type of home were essentially used as pharmaceutical guinea pigs:
Three trials were conducted at homes at Bessborough in Co. Cork, St. Peter's in Westmeath, St. Clare's in Stamullen, and The Good Shepard in Dunboyne - both Co. Meath - as well as six Dublin homes.

The research was carried out between 1960 and 1976.

In one of the trials, 80 children became unwell after they were allegedly given a vaccine intended for cattle as part of an experiment run at five care homes and orphanages in Dublin during the mid 70s.
A nun from one of the participating homes told Newstalk that parents gave consent for their children to participate in the trials. But Susan Lohan, cofounder of the Adoption Rights Alliance, calls B.S.: "The mothers of the children were not consulted on anything regarding their childrens' welfare," adding that, "I find it, frankly, not credible, that the managers of those places would have made an exception when it came to the vaccine trials."
The Irish Daily Mail also reports that in the 30s, children were given diphtheria vaccines in what may have been illegal trials. "What I have found is just the tip of a very large and submerged iceberg," said the historian who uncovered the records. Ireland didn't regulate pharmaceutical trials until 1987. So apparently these luckless children were just fair fucking game.
The whole affair has built into a major scandal in Ireland, with even the Archbishop of Dublin calling for a full inquiry, the Irish Independent reports. "The only way we will come out of this particular period of our history is when the truth comes out," he told RTE.
"I just wanted those children to be remembered and for their names to go up on a plaque," Corliss told the Irish Times. Pity that's all we can do for them now.
Photo via AP Images.