Following its dramatic Oscar win for Best Picture, Moonlight has now crossed $25 million at the box office proving that sometimes, yes, awards do matter.

Though it's been one of the most talked-about films of the year, Moonlight was also notable for being the second-lowest grossing Best Picture winner in decades—which, frankly, one probably expects from an indie movie about queer black men in Florida released in a year where Donald Trump was elected president.
However, after expanding into an additional 1,500 theaters, the film has seen a huge box office jump. Via the Hollywood Reporter:
Following the Oscars, Moonlight got a boost at the box office, grossing $2.3 million over the March 3-5 weekend, its biggest weekend to date despite already being available on home entertainment. That's a better showing than last year's best picture winner, Spotlight, which grossed $1.8 million immediately following its Academy Award glory.
Overseas, Moonlight has earned north of $16 million to date.
These numbers are more impressive when you consider Moonlight cost just $1.5 million to make.
The #OscarsSoWhite campaign and the larger discussion about diversity in Hollywood has many questioning the value and importance of awards shows. As we saw with the Grammys this year, economics often supersede excellence and these shows and the predominately old white people who determine them tend to miss the mark when it comes to art that's truly culturally impactful.
The sentiment is that awards don't really matter and of course, in many ways they don't. Viola Davis, for example, was already one of the greatest actresses in history long before the Academy finally recognized her talent this February. Solange Knowles wasn't nominated for any major Grammy awards despite she creating one of the most culturally relevant albums of 2016—a snub doesn't change that fact. Still, there's something to be said about the economic upside of awards and how often people of color and women are left out of those spoils.
G/O Media may get a commission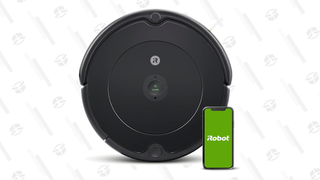 35% Off Black Friday Deal
iRobot Roomba 694 Robot Vacuum
While an Oscar win doesn't always pay off for everyone—see: the Oscar jinx—it's difficult to deny that a win or even a nomination can have a major impact on a filmmaker or actor's career. For starters, you're in a project that's generating lots of buzz. Then there's the months-long awards season and the red carpet events that accompany that. Lupita Nyong'o arguably became a bona fide star in part because of her dazzling parade of red carpet showstoppers on her way to winning an Oscar. There's also, in Moonlight's case, the exposure that comes with receiving the highest honor during the most-watched awards show on the planet.
In 2010, Archie Panjabi won an Emmy for her role in The Good Wife. During her acceptance speech, she effused: "This is just amazing for my career."
An Indian woman winning a major television award is, indeed, a big deal for a number of reasons, though I imagine her excitement had more to do with extra zeroes and future career opportunities. As pompous and unnecessary as they may seem, an Emmy or a Golden Globe can solidify you as a star and stars can demand more money. Stars are chosen for future roles and directing gigs and stars get their projects greenlit.
Perhaps most importantly, money and prestige can give you leverage—to start production companies like A24 (the company that produced Moonlight), to be able to say no to roles and projects that might hurt your career, and to be a valuable enough asset for studios to gamble on you and your work.
Obviously these recognitions don't change everything, but the potential impact on an artist's career is significant. Jennifer Lawrence became the highest-paid actress in Hollywood following her Best Actress win at the Oscars for Silver Linings Playbook. Undoubtedly, her starring role in The Hunger Games franchise also boosted her rate, but her Oscar win and nominations gave her legitimacy and weight—as both a box-office pull and a "real" actor.
That is an incredibly lucrative space to dwell. And it's a space where non-white, non-male creatives are frequently left out. So issues surrounding the industry's racism and sexism (and so many other kind of -isms) go beyond representation and even artistic merit. In Hollywood, as with so many things, money is usually the beginning and end of everything.