A while back we wrote about the growing economic clout of mommy bloggers — according to Ms. Magazine, they're starting to exert influence in the political arena as well.
In an article called "Cyberhood Is Powerful" (link is an excerpt, full article is magazine only), Kara Jesella writes that "a strong subset of the mommyblogosphere is overtly feminist and proudly activist." She mentions Veronica Arreola of Viva La Feminista, who recently blogged about Bill O'Reilly and healthcare protester Katy Abram, and Lawyer Mama, who posted on Henry Louis Gates Jr.'s arrest.
But moms aren't just commenting on politics, they're influencing it too. Blogger Lisa Frack organized a group of political moms called Activistas to campaign for paid maternity leave in Oregon. The bill they spearheaded didn't pass, but a similar one in New Jersey, also supported by moms, did. And the group MomsRising (Angela Sasseville, pictured, is a member), which has a blog and campaigns for such issues as health care reform, surpassed a million members this year. MomsRising executive director Kristin Rowe-Finkbeiner says reaching women online makes advocacy much more effective: "it's very different to be able to have direct access to people in their homes. That is huge to not have to leave home."
Blogging is helping moms influence national policy, but political engagement also influences moms. Joanne Bamberger of PunditMom tells Jesella, "I think a lot of moms who don't identify as political activists or feminists are writing on sites increasingly about issues that are important to them." She adds that they are "finding their political selves." Some moms might counter that they have always had political selves, but blogs do give mothers a public voice — and a piece of online real estate to call their own. Jill Smokler of Scary Mommy writes,
As a mother of three, there are very few things that are entirely mine. My bed is inevitably invaded by all of the kids sometime throughout the night. My favorite foods are devoured by mouths other than mine and my cosmetics are used for dress up these days as often as on my own face. [...] But this blog? It's mine. All mine. And that's what I love about it.
G/O Media may get a commission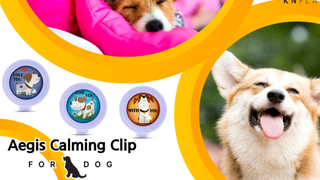 20% off
Aegis Calming Clip for Dogs
Jesella closes her piece with a few words from blogger JJ Keith: "Americans have become accustomed to thinking of motherhood as a trial, but with some activism and support, it could be a joy again." Americans have also become accustomed to thinking of motherhood as selfless, to assuming, in some ways, that mothers have no identity outside their kids. But mommy blogs are providing mothers with a mode of expressing their individual and political identities. Not only might this make life better for moms and children in practical ways — Jesella mentions that over half of American women have no paid sick or family leave days, which seems like a good place to start — but it might also help moms reclaim some respect from a society that sometimes devalues the work they do.
Arreola of Viva La Feminista wrote recently,
Having more women in the newsroom, in media itself, just might ensure that there is a critical enough mass that if something is offensive to one woman, she'd feel like she could say something.
Maybe having more women like them in the blogosphere will make moms feel like they can say something too.
Cyberhood Is Powerful: Moms Increasingly Taking Up Blogging [Alternet]
Ms. Magazine [Current Issue]
Earlier: Mommy Bloggers Feud Over Swag