Apparently parenting post-Internet is just an endless game of whack-a-mole with inappropriate sexual content. Today's example: an Oregon mom alleges her 12-year-old daughter has been reading dirty things on the Internet, using an iPad provided by her school.
Forest Grove's KATU is currently conducting an INVESTIGATION into the iPad pilot program at local Neil Armstrong Middle School. They've already covered how quickly and easily students accessed "blocked" sites. The followup tells of an anonymous mom who checked her daughter's browser history and was not happy with what she found:
Sarah said her daughter was one of the students who visited a site she wasn't supposed to — called Wattpad. It's an online writing community where people share stories. It's popular in some young adult circles. Sarah said the site itself isn't bad except she said her daughter was accessing the adults-only section.

"She was reading erotica - along with a lot of the other kids," Sarah said.
You might remember Wattpad as the home of After, the latest reason to burn your MFA in a fit of rage.
Sorry to burst your bubble, parents, but 12 is a totally normal age to be nosing around. An Atlantic writer recently wrote of discovering porn in his 9-year-old's tablet history. It's just that back in the stone ages, we had to comb through the library until we got lucky and found On Fortune's Wheel or a particularly edgy Mary Higgins Clark novel. Or your dad's mouldering Playboys. Now they've got my colleague Mark's articles at their very fingertips. (Except nobody's mature enough to handle rosebudding.)
But the Internet certainly makes it harder for parents to steer kids through their natural curiosity. It's everywhere, and kids are so damned determined. Then there's what anon mom found a month later:
"I found out she had an email account and was sending pictures of herself and having relations online," Sarah said.

Sarah says her daughter used the iPad to set up a personal Gmail account and send the racy pictures to another student.

"Enough was enough," Sarah said.
"I was shocked!" she said about the whole business. "It was not something you expect a 12-year-old to look at, or to talk about, or to want to do or anything. She's still a little girl." She confiscated the tablet. "I don't want her to have unauthorized access to the Internet," she told KATU, which is honestly pretty understandable after such a discovery.
G/O Media may get a commission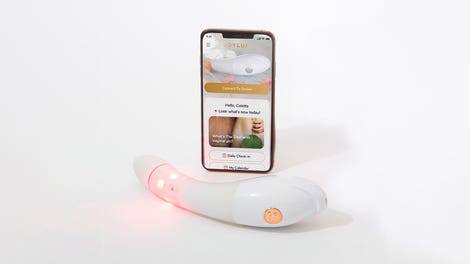 $50 Off
Joylux vFit Gold Device
But good luck with that, lady. It would be a challenge for a hardcore techie to completely cordon her kid off from the Internet, much less Average Joe teachers and parents. Even if school-issued iPads are outlawed and middle schools revert to old-time pedagogy as though humanity were threatened by Cylons, there'd still be unattended library computers and friends with fancy smartphones. Not that I've got any answers! Damned if I know what we're supposed to do about any of this! It does make you wonder whether schools perhaps have more pressing financial needs than iPads for every student, however.
Or, brainstorm: What if all electronics for kids came preloaded with mpreg fanfic? They'd be so horrified they'd never go googling for pornography and frankly probably never want to have sex, ever, for that matter. PROBLEM SOLVED.
(h/t Fark)
Photo via Tom Wang/Shutterstock.