Today in more awful news, Sarah Hyland, who plays Haley Dunphy on Modern Family, told a court she is in fear for her life from her ex, fellow actor Matthew Prokop.
According to TMZ, on Tuesday, Hyland took out a restraining order against Prokop, who she said choked and pushed her and made repeated threats against her. Hyland and Prokop, who has also appeared on the show, broke up in August after five years together. She told the court he "relentlessly bombarded me with vile, threatening and emotionally disturbing texts and voice mails including his own suicide threats." She said Prokop also threatened to burn down her home and hurt her dog.
According to the docs, Prokop — an actor who once appeared on "Modern Family" — pinned Hyland against a car during an argument about her outfit back in May and unleashed hell ... calling her "c**t, c**t, c**t" and choking her. Hyland says in the docs, "His grip was so tight that I could not breathe or speak. I was scared and in fear for my life."

Sarah says she suffered injuries to her voice — and had a "very sore throat following this event." In the docs, Hyland says she knew she was in an abusive relationship — and asked her TV mom Julie Bowen to come to her house to help "peacefully end the relationship."

Hyland says she had purchased a plane ticket to send Matthew back to his home in Texas — but when Matthew arrived to the home and saw Julie (along with others), he freaked out ... "ran outside into the backyard and began screaming."
Star Magazine reported a few days ago that Hyland was "terrified" of Prokop, who was harassing her after the breakup:
"Matt has become obsessed with Sarah," claims a source. "He calls and texts her constantly and has even said some strange things about her and her dog. She's terrified and wants him to stop."

Matt has also been sharing his heartbreak via Twitter. On Aug. 17 he posted, "Here comes the sun again…Means another day without you my friend."
G/O Media may get a commission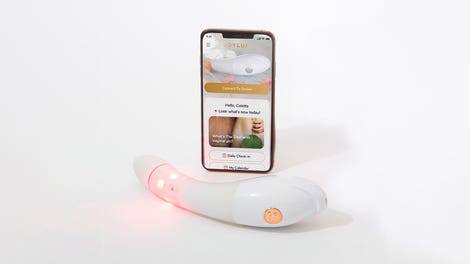 $50 Off
Joylux vFit Gold Device
After their breakup last month, Prokop reportedly entered rehab. According to TMZ, Hyland said she took out the restraining order after the director of the rehab facility where Prokop was being treated advised her to do so based on the actor's "mental state and attitude against her." Prokop cannot come within 100 yards of Hyland or her dog.
---
Drake Bell told one of Justin Bieber's fans "I hope you die soon" in an online exchange. According to Gossip Cop, which has a screenshot of the whole exchange, Bell wrote "You (sic) idol doesn't even do anything but cause trouble anymore. No music no movies he's just being an idiot. Oh and I hope you die soon." The exchange was apparently about some unwelcome comparisons the fan made between Bell and Bieber.
So everything is just going to be awful today; got it. Bell responded today on his Twitter by blaming a trollish Belieber who just won't leave him alone. "So a belieber floods me with spam telling me she hopes I die soon over and over so I give it back and I'm the bad guy?! Kids need to chill"
Good advice for everyone, I think.
[Gossip Cop/People]
---
Kirsten Dunst said she'd be a lot thinner if she was not dating her boyfriend Garrett Hedlund. Because, as rumors have maintained for years, Hedland runs a top secret underground Hollywood pie eating contest which has him hosting nightly events that he enters Dunst into. My sources tell me that the couple has made "millions" in prize money with this, not to mention earning prestige among the town's elite. So it's a trade off for the actress, you see. [Just Jared]
I am so sorry to report that John Stamos' mother, Loretta Phillips Stamos, has died at the age of 75. The actor posted a message to his Instagram on Tuesday: "the love of my life passed away yesterday in her home surrounded by her children and grandchildren. My mother had enough love to fuel a small country. She was truly one of a kind and will live forever in the hearts of all who knew her." [People]
Kendall Jenner posted a picture of her parents in happier times to her Instagram page today. The couple recently filed for divorce. WHY IS EVERYTHING SAD TODAY. [Instagram]
Rita Ora will be replacing Kylie Minogue on the UK's version of The Voice. A rep from human resources told me that Ora's resume was quite impressive and she totally nailed the interview, giving great answers to "where do you see yourself in five years" and "describe a challenging situation at your last job and how you overcame it." So congrats to her! [E Online]
GO BEHIND THE SCENES WITH KENNY CHESNEY IF YOU DARE. But heed this warning—no one one who goes behind the scenes with Kenny Chesney ever makes it out alive. [People]
Jeremy Renner dressed up as Scarlett Johansson's Black Widow character during shooting for The Avengers. Typical; a woman finally gets cast in a big budget action film and a man comes along and tries to steal that from her, too! HASN'T THE PATRIARCHY ALREADY GIVEN YOU ENOUGH, RENNER? [Facebook]
Honey Boo Boo is getting a new house, y'all! [TMZ]
Lamar Odom and Khloe Kardashian might be getting back together says dubious report. The Pangea continent is more likely to get back together than these two. [The Hollywood Life]
"Should girls play basketball?" Umm, of course, says "Most Improved" basketball player Elizabeth Banks. What else would she say? "No, I think the dribbling the ball creates an unhealthy balance in your uterus and interferes with your menstrual cycle. Women should sit still at all times and limit cardio to such activities as applying eyeliner correctly and pouring the perfect dry martini." [Twitter]
Dallas actress Jordana Brewster appeared in public with an arm splint. Let's all speculate weirdly about how she got injured. My guess: SHE IS ALIAS. She is an actress by day (convenient cover) and a highly trained deadly spy super assassin by night. Only logical conclusion. [Just Jared]
Sam Worthington's girlfriend Lara Bingle touched her stomach briefly; therfor, she is pregnant. I have had my hand on my stomach all freaking day. I'm not pregnant (call off your tips to TMZ) and I have no further comment other than to say this: There is a limit to how much tequila and enchiladas you can put in your body. But you won't know it until it's too late. [The Telegraph]
As promised, I have found the video of Grace Jones hulahooping during her Milan Fashion Week performance for AMFAR. Enjoy!
Image via Getty.