Lara Stone, the model who pulled the short straw when it came to posing partners for Justin Bieber's new Calvin Klein ad campaign, is now getting death threats because Beliebers (the same people who wanted Anne Frank dead because Justin mentioned that she was a "great girl") think she got way too close with their baby, baby, baby (oooh).
It's very clear that Stone, a married supermodel who looks less than thrilled to be in the photo with an "I'm straining real hard to poop"-faced Bieber isn't going to be making the moves on the crime-fighting rodent any time soon (she's not even smizing, for god's sakes). But that hasn't stopped teens—and, let's face it, probably adults—from tweeting death threats at her and demanding that she "back off." If that demand wasn't clear enough, it's been accompanied by both the word "bitch" and gun emoji which means the Beliebers are talking serious business. TMZ reports that one tweeter even went so far as to write that she's not joking when she says she'll kill Stone if the model ever goes near Justin's "d***" again. You've got to admit there's a certain unhinged charm to someone having no problem openly threatening another human with murder but making sure that their language doesn't offend anyone's gentle sensibilities.
The Beliebers might have even more people to target soon. According to The New York Post (and Wendy Williams), a Bieber truther movement has started, with fans outraged that Calvin Klein's people might have photoshopped Justin's body to make him appear more attractive (didn't work, tbh).
The biggest controversy, however, may be that the person in the photos isn't Bieber at all. Stone's husband, comedian David Walliams, posted an image on Twitter of an unretouched photo from the shoot asking why someone had superimposed an image of Bieber's head onto Walliams' body. Where does the trail end and how are the illuminati involved? Because you know they are, right? (Or Marc Jacobs.) (Or both. Probably.)
G/O Media may get a commission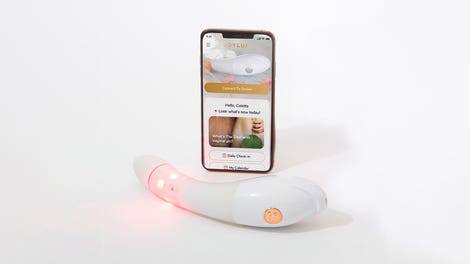 $50 Off
Joylux vFit Gold Device
Image via Calvin Klein