Australian model Meaghan Kausman recently did an underwater photoshoot, wearing a two-piece by Fella Swim. A few days later, the brand uploaded one of the photos to its own Instagram—and Kausman was shocked to see they'd magicked away a good chunk of her body. And she is pissed.
The photo was originally taken by photographer Pip Summerville, who shared a sneak peek on her Instagram. After Fella ran their version of the image, ThinkProgress reports, Kausman posted before-and-after photos on her own Instagram and went in on the swimwear brand, blasting their alterations:
They had drastically altered my body, thinning out my stomach and thighs in an attempt to box me in to the cultural ideal of beauty. Above is their version, below is the real version. My body is a size 8, not a size 4. That's my body! I refuse to stand by and allow ANY company or person to perpetuate the belief that "thinner is better". All women are beautiful, and we come in different shapes and sizes! This industry is crazy!!!! It is NOT OKAY to alter a woman's body to make it look thinner. EVER!
It's not like she was anything other than conventionally attractive to begin with. This is especially terrible timing on Fella's part, considering the biggest swimwear headlines of the summer have been dedicated to proud #fatkini selfies. Instead of catching the wave they got dumped off their boogie board and dragged over broken seashells and deposited where the water is just foamy sand.
Kausman next appeared on the Aussie edition of the Today show (via ThinkProgress), alongside her father Dr. Rick Kausman—who just so happens to run an organization that fights eating disorders and negative body image. She told the show: "I saw that they had practically cut me in half. So it was pretty mind-blowing."
G/O Media may get a commission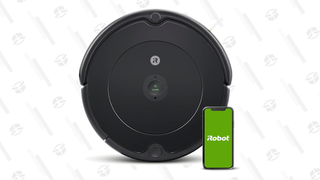 35% Off Black Friday Deal
iRobot Roomba 694 Robot Vacuum
Summerville chimed in on her own Instagram and explained: "After posting one of the images from the session to social media, a swim wear company took the image and heavily photo-shopped it without permission of either myself or Meaghan." According to News.com.au, this wasn't even a straightforward case of commercial work-for-hire gone pear-shaped. Fella provided the swimsuits gratis but didn't pay for the photos, and Kausman figured they'd use whatever Summerville provided as-is.
A spokesperson told Today.com they were very, very sorry: "FELLA sent an immediate apology to Meaghan Kausman and Pip Summerville and notified them that the photo would be removed out of respect."
Images via Meaghan Kausman and Pipsummerville