One of the most fascinating details in a new WWD interview with the ever-fascinating feminist designer Miuccia Prada is that she has a Carsten Höller slide in her office that directs from behind her desk to an outside courtyard. Others have opined about this—a similar slide traveled to the New Museum in 2011—but I wish the topic had been explored further; whether the 66-year-old icon uses it as a regular exit; or whether, during particularly stressful meetings, she just chunks a deuce and bes out. When does she use this slide!

Alas, there were more pressing topics, and as writer Luisa Zargani noted, she only had an hour to discuss them. Prada's designs are always some of the most dynamic each season and the reason, I suspect, is because she's the smartest designer working. Her storied past as a feminist and communist who went to freakin' mime school and only joined the family business because she felt obligated, only to blossom into a brilliant artist has been well documented (this 2004 New Yorker piece remains the best profile of her to date), but it's always exciting to read a seasonal temp-check with her, particularly after she's unleashed two of her best collections in years. (The topic of her fall 2016 menswear line was the occasion of the WWD interview, but please believe the accompanying womenswear line—inspired by ideas of war and the refugee crisis—was a revelation unto the runway.)
Out of the gate, Prada contextualizes her latest collections in the parameters of feminism, and the way she feels women are becoming more hemmed in by political expectations:
I must say that more than any other time, I felt the need to express general problematic issues — because sometimes you can and sometimes you can't. But this time, the sense of questioning was strong. It's all so dynamic now. Everything is changing in politics, we don't know where and we don't know how, in society, in the new means of communication, so the idea was very important for me to ask myself who we are, where we come from and where we are going. Hence this excursus. And then the position of women, I really care about this. After all, unfortunately women still don't count that much in the eyes of the world. There are two trends — those that have given up and just want to be married and be kept, but luckily there is also a new apparent feminism in the new generation.
Of course she answers the obligatory questions about how the nature of the fashion business is changing, whether she (and her husband Patrizio Bertelli, who runs the company with her) would follow other designers' suit and switch to the "runway-to-the-rack" model to avoid copycats, but she doesn't seem to be all that interested in answering these types of questions—primarily, it seems, because while she's a very savvy businessperson she is more compelled by artistic concerns (she mentions, at one point, that she wouldn't want to collaborate with an artist on a collection because she wants to be viewed as an artist herself, on her own terms). And yet:
I'm interested in the economic part because I'm interested in knowing what people think. I challenge myself because I want to verify if I'm in sync with people. My problem is to be sure I am in sync, even when ideologically I'm against fashion.

But if you are ahead of the curve, how can you realize if you are in sync with people?

That is my problem and my husband says we can't be too ahead. I always am, then people copy us. For example, with the Hawaiian shirts, we did them three years ago, and everyone started doing them, so I decided to put them back on the runway [laughing].

When I let my intellectual or political side loose, I censor my work and it's a harm to myself. Then there are periods in which I'm more generous with myself and others. I express myself in a way that is more understandable and people like it. When I do something that is fundamental, pop, it always works, maybe because there is some irony.
G/O Media may get a commission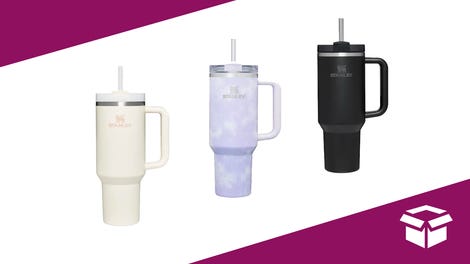 Up to 45% off
Stanley Cup Sale
She also expresses her opinion on designers who are tryhards, and mostly doesn't pull punches, particularly on the topic of those who craft entire collections based on crap facsimiles of work she's already presented:
Those designers that have spent their life copying a little bit here and a little bit there and pass as creatives, well, that bothers me. Whether they copy me or others, it's the same.
She's most dynamic, though, when discussing the nuances of politics and art, the way each influences the other in her ever brilliant work. As she puts it, "You can't expect fashion to revolutionize things; revolution happens in society."
Read the whole thing here, it's great.
---
Image via AP