In a strange but clever move, Saudi Arabia has co-opted the beauty pageant format, with one key change: instead of searching for the perfect swimsuit body and dazzling smile, officials are looking for perfect morals.
The woman who will win the title "Miss Beautiful Morals" need not be attractive, nor particularly well groomed. Judges are not looking for perky breasts or polished nails. In sharp contrast to our own Jessica-Simpson-bikini-clad contestants is Sukaina al-Zayer, a Saudi beauty pageant hopeful, who wears heavy black robes and shields her face with a veil. She looks forward to the pageant as her chance to show the world her devotion and humility.
Pageant founder Khadra al-Mubarak believes that the pageant will help elevate certain values, with special emphasis on respect for one's parents. "The idea of the pageant is to measure the contestants' commitment to Islamic morals... It's an alternative to the calls for decadence in the other beauty contests that only take into account a woman's body and looks," she said. She says the winner won't necessarily be pretty, since the judges care primarily about "the beauty of the soul and the morals."
The pageant also follows an unusual format:
So after the pageant opens Saturday, the nearly 200 contestants will spend the next 10 weeks attending classes and being quizzed on themes including "Discovering your inner strength," "The making of leaders" and "Mom, paradise is at your feet" - a saying attributed to Islam's Prophet Muhammad to underline that respect for parents is among the faith's most important tenets.

Pageant hopefuls will also spend a day at a country house with their mothers, where they will be observed by female judges and graded on how they interact with their mothers, al-Mubarak said. Since the pageant is not televised and no men are involved, contestants can take off the veils and black figure-hiding abayas they always wear in public.
G/O Media may get a commission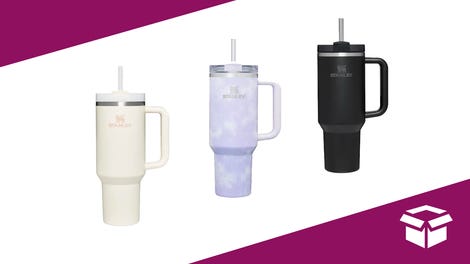 Up to 45% off
Stanley Cup Sale
The winner will receive $2,600 and runners up will get $1,300. However, al-Mubarak says she continually reminds the girls that the goal is not to win the money, but to display one's respect for her parents. One contestant, Awsaf al-Mislim, echoes al-Mubarak's sentiments, saying that the title is not nearly as important as the chance to prove her devotion. "I will be proud to show everyone that I competed with the others over my devotion to my parents," the 24-year-old said.
Although the Miss Beautiful Morals pageant may seem the polar opposite of the Western-style beauty competitions, perhaps the most interesting thing about this pageant is how it reflects back on our own expectations for beauty queens. Miss America, Miss USA, Miss Universe — each competition claims to be searching for the perfect woman, who is at once both beautiful and well-spoken, compassionate and well-endowed. While pageants in the US place a much greater emphasis on exterior beauty, there's a pretense that the winner must uphold certain values; she has to represent our cultural beliefs just as much as Miss Beautiful Morals has to represent theirs. When Miss USA runner-up Carrie Prejean smiled blankly and mouthed something about how she was "brought up" to only recognize "opposite marriage," judges were outraged over her answer; they had expected "more" from Miss USA. Since then, Prejean has suffered through a nude photo scandal and a breast implant scandal. A pageant hopeful in the UK was recently nearly disqualified because of rumors that she had appeared in x-rated movies. A recent where-are-they-now article in the Times about Miss World winners examines how well their once "perfect" looks have held up, while comparing their various post-pageant achievements. Through removing the physical aspect of the so-called beauty pageants, Miss Beautiful Morals reveals our own ambitious relationship to beauty queens. It also raises a whole new set of questions about obedience - for, although the Miss USA competition is not explicitly about obeying in the same way that Miss Beautiful Morals is, we still require them to adhere to a strict set of moralized rules and regulations - and to prove their complete devotion to an empty title.
Here She Comes: Saudi's Miss Beautiful Morals [AP]
Saudi Arabia: An Inner Beauty Pageant [LA Times]
Related: Inside The Miss World Summit [Times]
Town Beauty Contestant In Pornography Row [Telegraph]