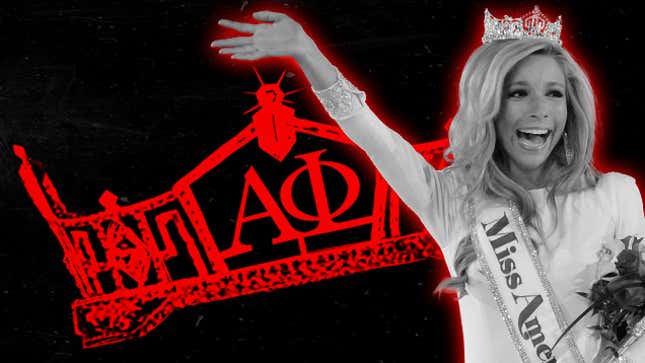 On paper, Miss America 2015 Kira Kazantsev reads like a forward-thinking person's dream of what a beauty queen could be. She's a trilingual honors student who's publicly passionate about women's health and down to clown with Jimmy Kimmel; she's got a squeaky-clean image and a squeaky-clean resume. But it's missing one unflattering detail.
In late April 2013, Jezebel has learned, Kazantsev and a friend were both kicked out of the Alpha Phi sorority at Hofstra University on Long Island after hazing pledges. At the time, Kazantsev was serving as the sorority's head of recruitment.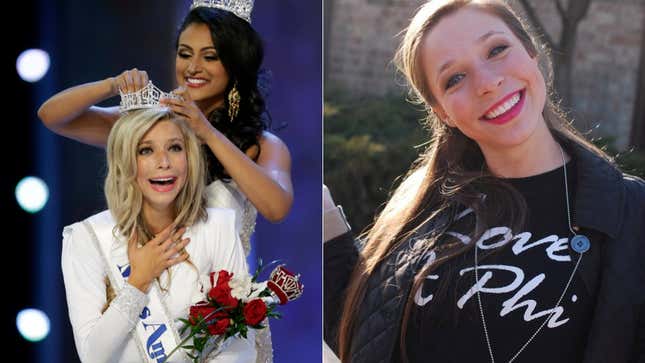 Kazantsev is well-spoken, quick on her feet, and perky. She's the third consecutive Miss New York to win the title of Miss America, and she did with the added handicap of a hammy Anna Kendrick impression. In the days since she earned the crown, Kazantsev has diplomatically but firmly addressed the loud-mouthed buffoons who have taken issue with her past internship at Planned Parenthood, telling Cosmopolitan, "It was close to my university and I care about women's health. It's really important that teens know what resources are available to them and learn to be respectful of their bodies and other peoples' bodies."
Kazantsev's Miss New York press kit describes a daughter of Russian immigrants who is fluent in Spanish and Russian and maintained a 3.6 GPA while triple majoring in Political Science, Geography, and Global Studies at Hofstra. And under "leadership roles," listed right under a platform called "Love Shouldn't Hurt"—a timely and important advocacy push against domestic violence—you'll learn that Kazantsev served as "Alpha Phi Sorority New Member Educator and Recruitment Committee President."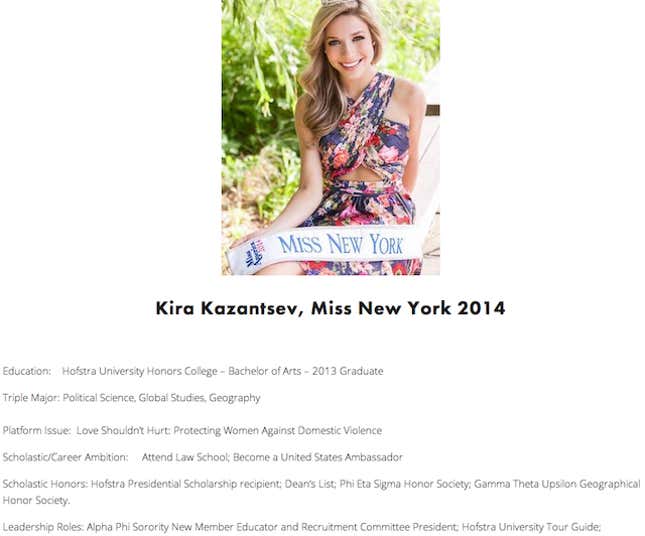 After Kazantsev's win last week, neither the national Alpha Phi organization nor the Hofstra branch of Alpha Phi (Theta Mu) publicly acknowledged that one of their own had just won the most prestigious beauty pageant in the world; nor did the local chapter and national organization recognize Kazantsev's considerable achievement. The organization's affiliated foundation was also silent, despite the fact that pictures of Kazantsev participating in Alpha Phi events are all over Facebook.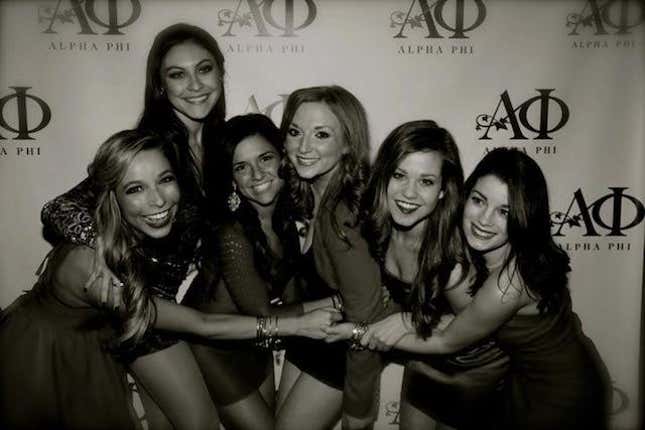 According to a tipster close to Kazantsev, those omissions were no accident. After returning from her fall 2012 study abroad semester in Spain, Kazantsev began her term as Alpha Phi's Recruitment Committee President for the incoming pledges. Kazantsev and her best friend (another Alpha Phi sister who was also her roommate), our source says, were exceptionally harsh toward the pledges. (In the tipster's words, they made the recruits' lives "a living hell.") Under Kira's supervision, according to the source, pledges in the incoming class were called names, berated for their perceived physical flaws and imperfections, and made to perform physical tasks to the point of bruising and exhaustion—standard sorority pledge stuff paid forward by a person who our source says was herself brutally hazed upon entry into Alpha Phi.
Hofstra's attempts to control hazing predate Kazantsev's time in Alpha Phi. In an attempt to cull the campus's headline-making abuse (and the ensuing student health and PR nightmares that followed in its wake), Hofstra has been quick to act decisively in response to hazing. According to the University's code of conduct, hazing includes:
Any action or situation that recklessly or intentionally endangers mental or physical health or involves the forced consumption of liquor or drugs for the purpose of initiation into or affiliation with any organization.

Any other act or series of acts that cause or are likely to cause mental or physical harm or danger.

Mistreatment by playing stunts or practicing abusive, humiliating or ridiculous tricks that subject an individual to personal indignity, humiliation or ridicule.

Harassment by exacting unnecessary, disagreeable, or difficult work or harassment by banter, ridicule or criticism. Some examples of such prohibited activities are:

Abnormal or unusual dress holding the wearer up to ridicule, e.g., extraordinary headwear, costumes, underwear, body painting, etc.

Performing unusual or abnormal acts, e.g., dancing on tables, standing at attention, standing on windowsills, blindfolding, etc.

Excessive or unusual physical activities, e.g., crawling, duckwalk, push-ups, sit-ups, skipping, hopping, squatting, etc.

Verbal or written harassment or abuse, e.g., yelling, making demeaning remarks, etc.
Student leaders are told in no uncertain terms that if they're caught hazing, the entire frat or sorority risks being tossed off campus.
But just because rules exist doesn't mean they're followed, and socially-enforced silence among fraternity and sorority members has allowed remnants of a particularly nasty culture to flourish underground. A recent graduate who attended Hofstra at the same time as Kazantsev told Jezebel that the final two steps of pledging in one (unnamed) sorority involved making all of the pledges remove their underwear and sit on newspapers while the older members forced them to watch lesbian porn. Anyone whose newspaper stuck to them at the end of the video, the former student said, was branded a dyke, ridiculed, and tossed out. The remaining girls were then forced to perform oral sex on their sorority "big sisters." Other Greeks required pledges to sit in circles around bowls of cat food and other various inedibles. They'd take turns eating and as soon as someone threw up, they had to eat the puke. Another sorority would wrap completely naked pledges in tinfoil, take them to bars, and instruct them to dance until last call. Patrons would pull pieces of foil off, and pledges were considered sexually up for grabs.
These, of course, are extreme examples, and not necessarily attributed to Kazantsev's sorority. Students can be suspended from Greek life or removed from campus for much less, and for much more. In the last decade, more than a dozen college students have died while participating in the pledging process, and uncounted thousands have been hospitalized due to alcohol abuse encouraged as a routine part of many Greeks' hazing processes. But it's impossible for university officials to know what's going on if everyone keeps quiet.
When someone reported Kazantsev and her friend for "dirty pledging," Hofstra didn't turn a blind eye. After a months-long investigation into their actions, our source says, the pair was expelled from Alpha Phi in late 2013 and told they could no longer participate in any sorority activities, including the end-of-year formal. Kira and her bestie attended the formal, anyway, but had to sneak in with their dates.
FERPA rules prohibit university officials from discussing details of disciplinary cases publicly or divulging details of what specific behavior got Kazantsev booted, but when I called Hofstra University to look into allegations I described as relating to "a high-profile individual who was expelled from her sorority in late April 2013," the representative who spoke with me responded, "Was this person, by chance, in Atlantic City last Sunday night?" She then assured me that she'd tell me what she could, which amounted to very little, aside from that damningly leading hypothetical. Additional Hofstra students who were on campus at the same time as Kazantsev corroborated the story that Miss America had been kicked out of her sorority for behavior her University characterizes as abusive.
The Miss America organization was more forthcoming. When I reached out to them last week to ask them if they were aware of Kazantsev's hazing history, a kind and personable representative who seemed taken aback by the allegations told me that they'd get back to me with a statement. Hours later, a spokeswoman from the organization sent this statement:
Kira has been fully transparent with the MissAmerica Organization about her termination from the Alpha Phi sorority. It's unfortunate that this incident has been exploited to create a storyline that distracts from what we should be focusing on: Kira's impressive academic achievements at Hofstra University, including earning a triple major from the Honors College and her commitment to serving her community. Kira is an exceptional ambassador for the MissAmerica Organization, and we are excited to be a part of her journey as a force for good across our nation, promoting education and service and working to empower young women.
The Miss America and Miss New York organizations weren't exactly as "transparent" with the viewing public as they say Kazantsev was with them.
This news shouldn't serve to take down Kazantsev; if anything, it might even be an opportunity for her. Good people sometimes do bad things, and discussing how they happened, how they developed, and how to keep other good people from doing the same bad things could make some kind of dent in a collegiate culture of hazing abuse. Because—to adapt a quote from Kira Kazantsev's platform—sisterly love shouldn't hurt.
Image by Tara Jacoby and via Getty