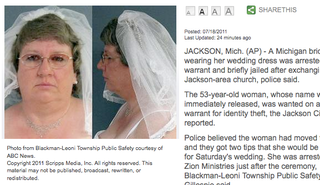 A 53-year-old Michigan woman was arrested on a felony warrant for identity theft just moments after her wedding ceremony ended.
Officers had discussed whether to arrest her on her wedding day, and decided to do that because they had no other information about her whereabouts, Gillespie said. They let her pose for last-minute photographs before taking her to jail, he said.

"She was kind of shocked at first, because according to her, she had no idea what this was about," Gillespie said.