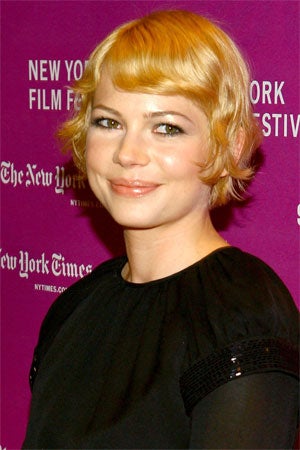 *Inspired by Shirley MacLaine's assertion that the best parts for actresses fall into one of the above categories
Michelle Williams to play another woman as victim? The Oscar-nominated actress (Brokeback Mountain) is in final talks to star alongside Leonardo DiCaprio (yawn) and Mark Ruffalo (yum) in Shutter Island, a drama based on Dennis Lahane's book of the same name and directed by Martin Scorsese. The film follows two U.S. Marshals (DiCaprio, Ruffalo) as they investigate the disappearance of a mental patient; Williams' character — the dead wife of DiCaprio's character — "haunts" him throughout the film, explains the Hollywood Reporter.
In other casting news, Lauren Holly — 'member her? — has signed onto star in the independent film The Least Among You as a professor, widow and "closet drinker" who meets a falsely-arrested African American man after he visits her seminary following the 1965 Watts riots.
Michelle Williams Haunts Scorsese Mystery Drama [Reuters]
Holly, Gossett Cloistered For Indie Feature [Hollywood Reporter]