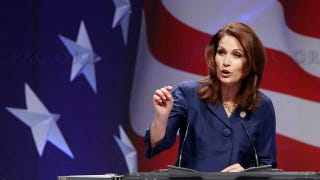 According to Michele Bachmann, if you elect Michele Bachmann as your president, "it won't take long" for Michele Bachmann to fix the ailing economy.
"It won't take that long if we send signals to the marketplace," she said, standing by an earlier comment that the improvement would begin within the first quarter.
Signals. Okay. Got it.
Bachmann also says she's fed up with waiting around for President Obama to fix the economy, especially since he's had plenty of time to turn things around.
"We deserve a whole lot better in this country. The president's had two-and-a-half years to get it right. He has not infused enough confidence in this economy," he said, adding that the economy will remain stalled without tax and regulatory reform.
Bachmann: Improving economy 'won't take that long' [USA Today]