After viewing the trailer for Ricki and the Flash, you'll learn two things: 1. Meryl Streep can sing, and 2. the entire plot of Ricki and the Flash. More than any movie in recent memory, its trailer goes through every major beat in the story—down to the rousing finale. But that's not necessarily a bad thing.
The Flash is the band of Ricki Rendazzo (her driver's licence identifies her as the far less interesting Linda Brummell), and they perform regularly to patrons of The Salt Well, a perpetually half-filled bar somewhere inside Los Angeles County. When Ricki's onstage, she is a firework. When offstage at her part-time job, scanning groceries at the local Whole Foods-like grocery store, she's sort of a dud. Rendazzo has just filed for Chapter 11 when her ex-husband, Pete Brummell (Kevin Kline), calls to inform her that their daughter, Julia (Mamie Gummer, who's given the worst onscreen hair since Mary McDonnell in Dances With Wolves) is in a helluva state after being dumped by her husband. It's been decades since Rendazzo left her family in Indiana to follow her dreams on the West Coast, and ages since they last spoke. Pete married his second wife (played by Audra McDonald) soon after Ricki left, but she's out of town, and Ricki's being tapped in to take care of this particular motherly duty.
There's some comical tension, a dinner scene where the family releases years of pent-up emotions, a couple montages, a few fights, and a happy ending that leaves Ricki nearly redeemed. (If saw the trailer, you knew all of that.) But you're not paying $15 for plot, you're paying $15 for Meryl.
Bookended by rousing covers and scattered with plenty of shorter performances, Ricki and the Flash is almost a concert movie. Streep, god love her, takes the role as seriously as we expect her to—convincingly singing lead and hitting every chord as though she's been strumming for decades. Rick Springfield is charming as her bandmate/sort-of boyfriend, and the two have a gentle, convincing chemistry that's most evident in a later scene just before she introduces him to her family. "You don't know these people," Ricki tells Greg. "They despise me."
Despise her they do, and it's the overacted disdain of Ricki's two sons and other disapproving family members that becomes the most irritating part of the film. Their hatred of Ricki is played up for the back row, especially compared to the surprisingly thoughtful performances by Gummer (Streep's real-life daughter), Kline, and McDonald. They have complicated, difficult relationships with Ricki—a complicated and difficult woman—while the others are so frustratingly one-note in their hatred that you'd almost understand if Ricki never spoke to her family again.
But with Meryl at the center, Ricki's less than crowd-pleasing moments are fairly easy to overlook. Think of them as an underwhelming opening act; you suffer through their performance, but by the time the headliner has finished their second encore, you've forgotten their name.
G/O Media may get a commission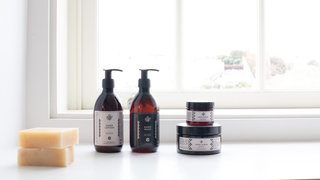 Exfoliate and Hydrate
The Handmade Soap Company
Sometime during a montage in the film's second half, screenwriter Diablo Cody has a brief cameo as a Salt Well patron who twirls blissfully—almost blindly—as Ricki and the Flash performs "I Still Haven't Found What I'm Looking For." In that moment, she becomes her audience. Ricki, despite its traces of melodrama, is (for the most part) a joy to watch. And even though you know exactly how it will end, the band's final gig will make you shout out for an encore.
Ricki and the Flash opens today.
---
Contact the author at bobby@jezebel.com.