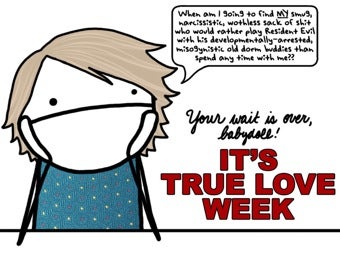 Oh man, here we go: "Valentine's Day is quite possibly the worst holiday for men. You have to make plans, spend money, and do everything "right"-at least you know you'll have sex that night." Wah-wah-wah-waaaaah!
It is a gift to me, and my gift to you, that both Men's Health and Cosmopolitan came through with the terrible Valentine's Day articles I expected them to. It's as if they had a mixer and decided that the best way to celebrate love was to destroy it for the rest of us. Repping the bro-squad, we have "A Guy's Guide To Valentine's Day" via Men's Health. On Lady Patrol, there's Cosmopolitan's "Do This, Not That: Good Girl Moves to Ditch on Valentine's Day." Aw, yeah! It's about to get ponytail-thong-Axe sexy up in here!
So let's take a look at the advice the ladies of Cosmo and the bros at Men's Health decided to share, shall we?
On Cards:
Men's Health: "To Her, It's More Than Paper." (LOL FOREVER) Last-Minute:
You may not have card stock, but you have construction paper, right? Even printer paper and a red crayon or marker will work at this point. All she really cares about is your message-so write from the heart and don't forget the "L" word. A few lopsided hearts will really make her melt.
Cosmo:
Do This: Sext Him Your Late-Night Plans to Celebrate
Use this opportunity to channel your sex goddess. He'll be so excited with your naughty outline to undress him that you won't need to say another word all night.

Not That: Say It with a Greeting Card
Save the long gushy love poems for your wedding vows. Telling him you choo-choo-choose him was cute in 7th grade, but a cheesy card just doesn't cut it past puberty.
Oh, SNAP! Sorry, bros, but your heartfelt card isn't going to cut it with the sexting squad, who are being told by the lady sex bible that your moves are "cheesy" and pre-pubescent. Epic burn, Cosmo!
Jezebel Point: Men's Health, surprisingly enough. Leaving the whole "to her, it's more than paper" thing aside, a heartfelt message is actually much more mature than a sexy text. Nice try, though, Cosmo. Also? Telling women that their dude will be so excited by her sexts that she won't have to say anything else all night is really, really creepy.
On Candy:
Men's Health: Use Chocomap to find a local chocolate shop. Then visit or call to put together your own box (heart-shaped, if you like) of her favorites, plus some new flavors. She'll love knowing you picked everything out just for her-and maybe she'll share.
Cosmo:
Do This: Spell Out Your Desires
Use an erotic magnetic poetry kit to let him know how much you "love" when his "tongue" makes you "cum." When it's his turn, you may be surprised to discover you've been dating a secret John Keats.

Not That: Spell Out "I Love You" with Chocolate
Personalized M&Ms or heart-shaped cookies were sweet when your mom whipped them out at your graduation party. Forget the candies and treat your guy to something less saccharine. You.
Barf-a-saurus Rex.
Jezebel Point: Men's Health, yet again. Their chocolate suggestion was actually sweet and thoughtful, and Cosmo's just reads as desperate and sad. And yeah, your boyfriend is totally going to stun you with his John Keats skillz after you write your oh-so-subtle magnetic poems. Sure. I think Bright Star was written right after Fanny Brawne sexted him a poem reading "u r so hot...wanna bang u a lot lol xo 4real"
Gifts:
Men's Health:Last-Minute:
A Target gift card will earn you a spot in the doghouse. But a personal gift certificate is entirely different. Whatever you're good at-massages, cooking-make a note card promising your service for free, whenever she wants it. Be sure the card is "good" for several uses. Can't think of a talent to awe her with? Then make the card good for sexual favors.
Cosmo:
Do This: Make His Fantasies Come True
Surprise him with a Victoria's Secret gift card and a note that says "You pick." He'll never mind shopping with you again.

Not That: Buy Him Cupid Print Boxers
We get it: Every time he wears them, he'll think about you ripping them off. But our undies are just more fun to play with.
Jezebel Point: Draw. Both of these ideas are terrible, in that they're really just selfish presents in disguise. People can see through "personal gift cards" a mile away (in most cases it means you were lazy or forgot) and when you add in the "free sexual favors" component, it just gets annoying. Your girlfriend shouldn't have to cash in a card for "favors," dumbass. And really, if you want to buy new lingerie, just buy it, and don't try to act like it's such a big fucking deal or gift to someone else. Come on, now.
Overall: I can't believe I'm saying this, but I'm pretty sure Men's Health wins this round. Sure, the article started out with the bro-tastic quote in the first paragraph of this post, but the article was mostly made up of harmless (and even thoughtful) suggestions for Valentine's Day. Yeah, they all fall into the stereotypical categories, and the creepy factor rolls in when you realize that all of this is being done specifically to get laid, but at least the Men's Health article didn't include this Cosmo gem: "With a bold red pout, nothing will stop him from staring at your lips all night. Feel free to mark your territory all over his body when you get home." And then when you're finished, ladies, tie his boxers in a knot, make them into a headband, and start a hot new trend for fall.
Do This, Not That: Good Girl Moves To Ditch On Valentine's Day [Cosmopolitan]
A Guy's Guide To Valentine's Day [Men's Health]
[Image Via Natalie Dee.]