Melania Trump, the United States' potential future First Lady, has been notably silent throughout her husband's presidential campaign. A new profile by Julia Ioffe in GQ provides more insight into Melania's state of mind than any of her vacant soundbites have previously, as well as glimpses into her upbringing in Slovenia, and some insight into why she might have been attracted to her now-husband, Republican frontrunner and 250-pound accumulation of rancid beef.
Melania's relationship with Trump seems to be a fortuitous conclusion to a rocky modeling career that facilitated her escape from Slovenia. According to Ioffe, the future husband and wife met at a New York Fashion Week party in 1998. Melania had lived in New York for several years, but had struggled to find work as model in her late twenties (which was viewed as over-the-hill); the relationship, in many ways, rejuvenated her prospects.
Ioffe writes that many Slovenians feel that she, in wholly embracing the Trump lifestyle, has abandoned the country:
In Slovenia these days, there is a certain sense of resentment that Melania has forgotten her roots; there is talk that she refuses to speak Slovenian, that Donald visited the country only once and only long enough to have dinner. There's a sneaking suspicion that she thinks Slovenia is not good enough for her, and that she might be right. But in interviews, Melania doesn't shy away from her Slovenian life; she's not embarrassed by it. "I love my childhood," she tells me. "It was a beautiful childhood."

G/O Media may get a commission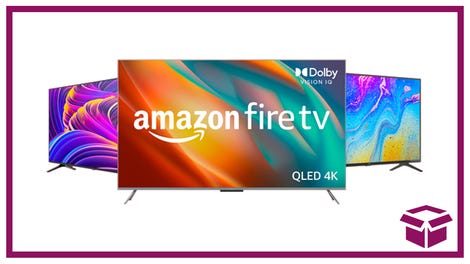 Ooh. stunning.
New Amazon Fire TVs
For instance, her son speaks fluent Slovenian with his grandparents, who immigrated to New York and live in Trump Tower.
One of the most interesting things in Ioffe's piece is the sizable collection of similarities between Trump and Melania's father, a man named Viktor Knavs who once worked as a chauffeur to a mayor and then gradually worked his way to a job selling cars, and made sure that she and her sisters had every opportunity that came with financial success. From the profile:
Both are tall, portly men with blond hair and sharp suits; they're brash men who like the finer things in life. "He likes quality," says Melania. "Viki"—as Viktor is known to his friends here—"likes good food," Jeraj tells me. "He loves cars." He was one of the many people who would tell me about Viktor's extensive collection of Mercedes. "You'll never see him in another car."

Those who know the Knavses say that Viktor is boisterous and strong-willed. "Jokes come naturally to him," Ana Jelančič, a neighbor and friend of the Knavses, tells me. "If he goes into a bar, people pay attention." Viktor sucks the air out of a room, she says. "He is the strong one in the relationship. Amalija supports him. She is a wonderful mother and wife."

Melania agrees: "They're both hardworking," she said "They're both very smart and capable. They grew up in totally different environments, but they have the same values, they have the same tradition. I myself am similar to my husband. Do you understand what I mean? So is my dad; he is a family man, he has tradition, he was hardworking. So is my husband."
Viktor has, like Trump, had several notable moments of questionable moral conduct. He reportedly got into some legal trouble while working as a car salesman:
Police files from the time indicate Viktor aroused suspicion for illicit trade and tax evasion in 1976. (He was charged with a tax offense, though his record was later cleared on account of Slovenia's statute of limitation, a process the courts referred to me as "legal rehabilitations.") Melania blocked my efforts to speak to Viktor, and she denies that any such investigation took place. "He was never under any investigation, he was never in trouble," she snaps. "We have a clean past. I don't have nothing to hide."
Ioffe reports that before he met Melania's mother, he impregnated a woman named Marija Cigelnjak who he offered to marry and then pressured to have an abortion:
This, Viktor said, was because the child was not his. A son was born in May 1965, and three months later, Marija sued Viktor for child support. Viktor continued to deny paternity—going into detail for the court about when he had sex with Marija and the rhythms of her menstrual cycle—prompting the court to order a blood test. Based on its results, the court determined that Viktor was, in fact, the boy's biological father. Viktor fought the order to pay child support all the way to Slovenia's highest appellate court. The courts always ruled in Cigelnjak's favor. (The court record indicates that Viktor filed his appeal late—and lied brazenly and unconvincingly about the nature of the delay.)
The son, Denis Cigelnjak, is now 50 and lives in Hrastnik. Viktor has never acknowledged him. Ioffe noted that Melania initially denied Cigelnjak's existence—after Ioffe sent her court documents, Melania clarified and said that she hadn't understood the question. "I've known about this for years," she said. "My father is a private individual. Please respect his privacy."
Read the full profile here.
---
Image via Getty.