Melania Trump, apparently emboldened by her brief time in hiding, asserted in a statement on Sunday that separating immigrant children from their families at the U.S. border is not a way to Be Best.
"Mrs. Trump hates to see children separated from their families and hopes both sides of the aisle can finally come together to achieve successful immigration reform," her spokesperson, Stephanie Grisham, said in a statement, according to CNN. Grisham added, "She believes we need to be a country that follows all laws, but also a country that governs with heart."
FLOTUS isn't known for taking public stances on her husband's policy positions, save for the time she falsely insisted to Joy Behar that Barack Obama was not born in the United States. She's not taking much of a stance here, either, even if some news sources are heralding her "rare" "break" with the Trump administration. Though she appears to be addressing the administration's zero tolerance policy that mandates all undocumented immigrants crossing the border be prosecuted as criminals—a policy that results in immigration officers ripping children from their parents at the border, she isn't actually calling anyone out. Indeed, her statement merely notes that she "hates" separation and "hopes both sides" do...something. There's no real condemnation. There will be no action. Her words are worthless.
In fact, Melania's just echoing her husband—Trump himself claimed over the weekend that he "hate[s] the children being taken away," and that "the Democrats have to change their law — that's their law." That, like much of what dribbles out of Trump's garbage hole, is a lie—there is no law mandating the separation of children, and though a zero tolerance policy has somewhat existed since 2005, both the Obama and George W. Bush administrations made exceptions for immigrant parents crossing with their children.
G/O Media may get a commission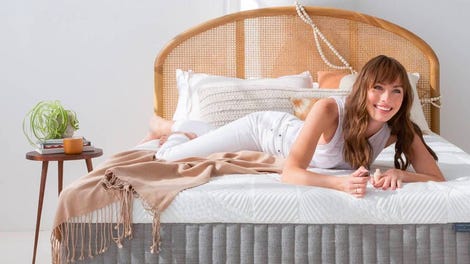 Sleep Sale
Sleep Sale - Brentwood Home
The current zero tolerance policy is actually reportedly the workmanship of Stephen Miller, a fascist pinky toe masquerading as the president's Senior Advisor, and Miller has no qualms about pilfering children from their parents' arms. 1,995 children were taken from their parents from April 19 to May 31, according to the New York Times. The Trumps might "hate" it (I'm sure Donald doesn't actually give a shit), but they support and perpetuate it. And blaming "both sides" is an easy way to trick supporters against separation into believing it's the Democrats' fault, and curry favor with the few Republicans with whom the policy doesn't sit well.
So don't go knitting Melania a pussy hat just yet.