Megan Thee Stallion chose to use three images of herself for the cover of her debut album, Fever, released on Friday. This should tell you how much she values Number One. There she is in a cheetah-print two-piece, and in a candy-apple-red bikini, and seated in a chair with her mouth agape. There's a horse and flames in the background, of course. Besides being a monument to self (not unlike the eyegasmic images of her on a bike looking preternaturally oiled for Rolling Stone), the cover design reminds me of the stylized, outrageous (and mostly excellent) Pen and Pixel album artwork that dominated the Cash Money and No Limit era. (These were the opposite of Tyra Banks's advice to remove one accessory or item of clothing before leaving the house; the idea was to add and never stop adding.) The Fever cover art isn't that drastic (there's much more negative space), but it is dramatic. It gets a point across that Megan is the center of her universe.

In roughly two years, Megan, who's 24, has raised her cachet in rap by being audacious and unforgiving and making people dance in the process. She begins her album (the opener "Realer") declaring that instead of talking, she'd rather a dude meet her at the bank; then she disparages her critics, as well as their feelings. Like many things, her appeal can be summed up in a meme: the one that superimposes Juvenile's club classic "Back That Azz Up" over a video of Prince Harry doing a CNN interview segment from Afghanistan—the effect is Harry being understandably seduced by "Back That Azz Up." (In other words, this is what happens to people "when 'back that azz up' comes on in the club.") Fever serves the same agenda, continuing the merciless, fun mood of Megan's mixtapes and EPs, including 2018's Tina Snow. Her bodacious single, "Big Ole Freak," was another sign of things to come.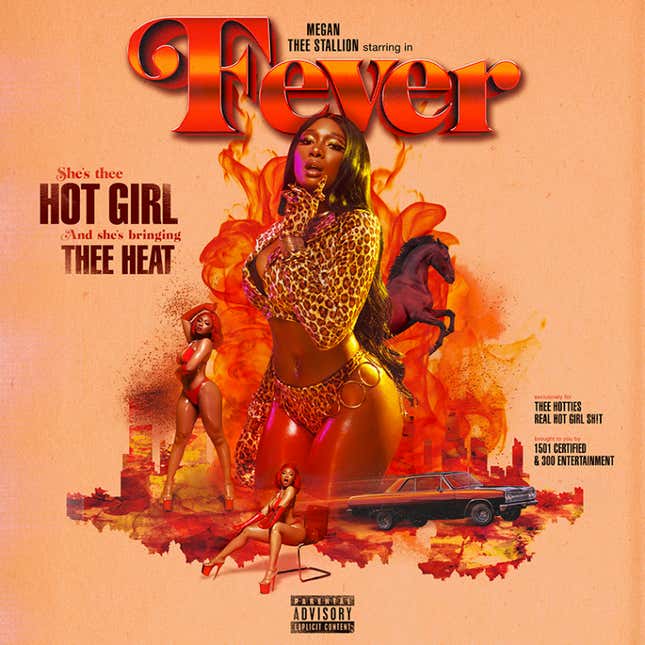 As a rapper bred in Houston, the cornerstone of chopped-and-screwed music, Megan knows the value of pacing. The essence of Houston and Southern rap, and UGK in particular, is dripping so much in her track "Pimpin'" that a spirit is felt; "Money Good," another briskly-paced anthem about being financially sound (though she's open to being spoiled), includes a shout-out to Pappadeaux, a family-owned restaurant chain where I ate once in Houston in the mid-2000s and have not been the same since. "Hood Rat Shit" is built around a 2008 clip from a viral news segment of a then 7-year-old who stole his grandma's car and explained: "It's fun to do bad things," and, "I wanted to do hood rat stuff with my friends." No one is better at explaining base motivations for actions than a child (and okay, they're also good at lying straight to your face), and "I wanted to do hood rat stuff" captures the low-stakes, joyride vibe of Megan's music, all of which could soundtrack a Girls Night Out scene on Insecure (I nominate "Simon Says"). For many a Megan Thee Stallion song, there's a twerk with your name on it.
Do not leave this album without wearing out "Best You Ever Had," which feels like a years-late but relevant retort to Drake's "Best I Ever Had," a song both irresistible and laced with insincerity. When Megan raps, "I ain't worried 'bout the other girls that you had," she's getting ahead of the story. Salt-N-Pepa was good at this type of subversion, treating the male perspective as inherently specious and curtailing behavior they deemed unacceptable—Megan's approach on Fever is a touch more dismissive. "You let the boys come up in here and talk about how they gon' run a train on all our friends and they want some head and they want to shoot everything up, and they want to do drugs," she told Rolling Stone. "Well, we should be able to go equally as hard. I don't want to hear none of that 'That's offensive!' or 'All she talk about is pussy.'" On this album, she instructs men on how to treat her or otherwise refuses to listen to them. She cares about them insomuch as they can serve her interests, and she cares a lot more about earning money to sustain herself. Her songs offer the kind of beautiful raw sentiments—"Ain't no dick alive that could make me lose my mind," she raps—that were/are signature-Trina.
The point is not so much to make comparisons, but to say lineage is important. While Megan is the next big thing among many great prospects (she already has a fanbase she calls Hotties), she and others of her rap generation (City Girls, Rico Nasty, Tierra Whack, etc.) have the benefit of fewer limitations, more avenues of exposure, and the ability to display range on various platforms. Many of their predecessors had to be sexy on someone else's terms, and it was seen as a miracle if they were lyrically gifted to boot. Megan can be 10 steps ahead of perception without being forced to use a template, because social media gives artists like her a chance to shape their sense of self. Being able to see themselves and control how other people see them is a unique power that allows women in rap a certain freedom, even if it's not completely without criticism. "Ain't no nigga put me on," Megan raps, alluding to the history of women rappers getting a career boost through a male cosign. She's perceptive enough to know that the idea of ownership has switched hands considerably, given how much Nicki Minaj and Cardi B steered their own careers and personas. Megan is taking full advantage, making songs that assure she knows her power and what she wants to do with it, which is often just dance.