Although it certainly raises the question of precisely what kind of roles Megan Fox will get that involve keeping her clothes on, Megan Fox will be keeping her clothes on in movies for awhile so that her baby son Noah doesn't get teased about it when he gets older:
"It changes your perspective about being overly sexual in a film when you have a baby. I'm going to be more cautious about choosing films because I'm already thinking about when he's in school and his friends are going to be showing him my photo shoots with me in a bikini and he's going to be horrified. So that will deter me from making some of the choices I made before."
Ana Gasteyer Satirizes the Girl Boss in 'American Auto'
Regarding her son's Biblical name, Fox says that the "rebellious" phase of her early 20s—during which she didn't care about religion or marriage—has given way to a new embracing of traditional values: "Maybe I've come back full circle."
And, shucks, this would hardly be a new-mom soundbite article without the weight talk! "I only gained 23 pounds when I was pregnant and I'm still 10 pounds heavier but I don't want to kill myself trying to get back into shape because it's not a priority right now. I'm too in love with Noah and I don't want to be away from him. I just want to be home." [Daily Mail]
---
G/O Media may get a commission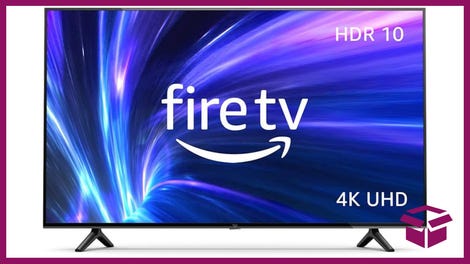 42% Off
Amazon Fire TV 50" 4K Smart TV
Ali Lohan acted like a brat at L.A. consignment and vintage shop Wasteland, where in-debt sister Lindsay dispatched her to get rid of some used clothes, shoes and accessories for cash. Apparently Ali was not happy with the consignment rate, screaming: "Thirty dollars for these? They cost $700! This is ridiculous!... These HAVE to be worth more, Lindsay was photographed wearing them, that HAS to add value." Also features an unsubtle allusion to Ali having new breast implants. So there's that. [Radar Online]
---
Slowly but surely, like the proverbial hare (except two hares, with endless sex appeal, and zillions of dollars), Brangelina inch closer to the altar: At the end of last month, Brad Pitt and Angelina Jolie sent a stylist to quietly buy wedding rings from L.A. jeweler Neil Lane. Shhh, you guys. Shhhhhhhh. [In Touch]
---
Aw, mannnn. No picture yet, but Rihanna supposedly got a "Breezy" tattoo to support boyfriend Chris Brown. [MTV UK]
---