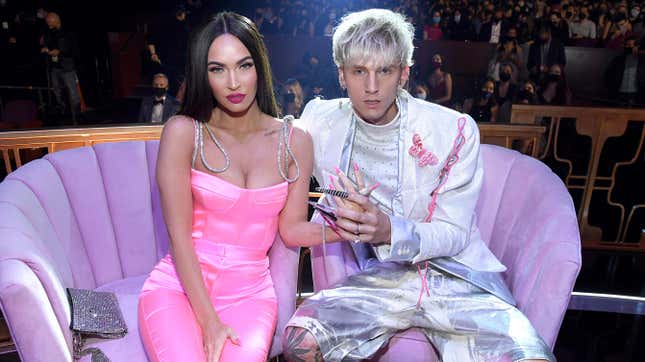 At the point where you're posting lyrics from Beyoncé's Lemonade next to any kind of burning object, it's safe to say you're going through something cheating-adjacent in your love life and want the whole world to feel your wrath.
The Cast of 'Jersey Shore: Family Vacation' Think All Roadtrips Are Shitshows
Megan Fox has scrubbed all photos of (former?) fiancé Machine Gun Kelly from her Instagram page—including those very ill-advised Halloween shots of them dressed as Pamela Anderson and Tommy Lee, who physically assaulted Pam—and posted a video on Sunday of a burning envelope with the caption, "You can taste the dishonesty/ it's all over your breath." Those are lyrics from Beyoncé's "Pray you Catch Me," in case you missed the reference. Fox's Insta carousel begins with three thirst traps of her in a skin-tight black number with cutouts and long witchy nails before introducing the burning letter. Oh, and she's also newly followed Eminem, MGK's longtime rival and fellow white rapper, on the social media platform. Big revenge energy.
Commenters quickly picked up what the Jennifer's Body actress was putting down. "If SHE got cheated on the rest of us really have no hope," wrote one.
"He probably got with Sophie," wrote another, to which Fox cheekily responded, "Maybe I got with Sophie," plus a fire emoji. Sophie Lloyd is MGK's bombshell guitarist.
Fox and MGK have had a notoriously tumultuous and, at times concerning, relationship. They drink each other's blood "for ritual purposes," she has said. When he proposed to her in January 2022, he did so with a thorned ring that he designed to be literally painful for her to take off her finger. "Love is pain!" he exclaimed in an interview with Vogue at the time, which definitely bodes well for a healthy relationship. But perhaps my favorite Fox/MGK anecdote is how they describe the time they first met at a GQ party in Los Angeles in 2020:
'This weird thing happened,' says Fox. 'We didn't see each other.' She looks at him. 'Do you remember [seeing] my face?'
'That's what's crazy,' he says, 'I don't. I don't remember your face.'
'I don't remember your face... And I definitely would have remembered his face,' she continues. 'I just remember this tall, blond, ghostly creature and I looked up and I was like, "You smell like weed." He looked down at me and he was like, "I am weed." Then, I swear to God, he disappeared like a ninja in a smoke bomb.'
Of their first almost-kiss, he said: "She wouldn't kiss me. We just put our lips right in front of each other and breathed each other's breath and then she just left."
I don't know that anyone could have predicted this love journey might potentially end with her burning envelopes and posting Lemonade lyrics. It's also very possible that this is just foreplay for these two, and we'll see them creepily touching tongues on a red carpet next month like nothing happened. Either way, I hope she's OK.