During the "Plead the Fifth" segment on Andy Cohen's Watch What Happens Live Thursday night, Megan Fox admitted to hooking up with Shia LaBeouf, confirming a rumor stemming from some cryptic comments LaBeouf made in a 2011 Details interview about their time together on the set of Transformers. Megan had denied it at the time but spilled, as many do, when prodded by Andy (and plied with liquor).
"I would confirm that it was romantic," said Megan, looking slightly meek. "I mean, I love him, I've never been really quiet about that. I love him!" To refresh your memory on the LeBeouf statements seven years ago which started this speculation:
"Look, you're on the set for six months, with someone who's rooting to be attracted to you, and you're rooting to be attracted to them."

"I never understood the separation of work and life in that situation," LaBeouf said. "But the time I spent with Megan was our own thing, and I think you can see the chemistry onscreen."
Perhaps more fascinatingly in this interview, Megan spoke about what she meant when she once said she'd "destroyed the house" when she fought with husband Brian Austin Green. "That was hyperbole a little bit, but one time I got really angry at him and I wrote in Sharpie marker a bunch of Nietzsche poems all over his walls."
I had such a crush on Megan at one point. We stan a forthcoming bisexual icon!
Tommy Lee has told Kylie's baby daddy to lawyer up! The Mötley Crüe member is claiming that Travis Scott stole elements of his stage design for Scott's current world tour. But I ask of you: when would Travis Scott have been to a Mötley Crüe concert? When would any of us have been to a Mötley Crüe concert? Either way, Lee aired his grievances on both Instagram and Twitter, so hopefully Kris is prepared to open the coffers for Scott's legal defense.
G/O Media may get a commission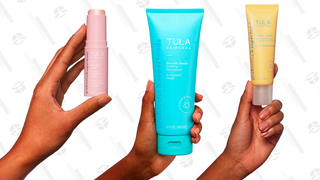 ---
Julia Roberts's most terrifying role was as a ShowBiz Pizza animatronic bear. (People)
I don't need to read this to know the answer is NET WORTH. (Us Weekly)
More alleged Kate Middleton and Meghan Markle drama: Feed me that royal beef! (Celebitchy)