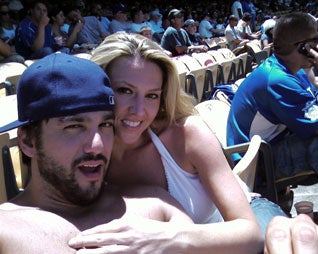 Meet Glamour's new Alyssa Shelasky. (He used to bone Alyssa Shelasky!) Mike Cherico — aka 'Edgy English Teacher' — has not only taken over blogging responsibilities for Alyssa but he is soooo bummed right now because he watched The Break-Up last night just after — what is it summer or something? — enduring a break-up with the exotic beauty pictured here!
Jennifer looks great, Vince, not so much. Am I destined to look like Vince while she gets off looking like Jen?
Um, judging from his April post about their relationship Mike's being a little optimistic!
My current g.f. hates my button pushing, like when I listen to Howard Stern around her. And she can't stand my ooh's and aah's when Jessica Simpson or some other random hottie flashes onto my TV screen... Last night she recited some existential psychobabble and told me she would ignore those remarks from now on... I'd better buy her some Prada this weekend or no nookie.
Okay, whatever, you know, we can't top "nookie." But on a related note: where the fuck does an English teacher in South Central Los Angeles get Prada money? The same source of $3,000-a-month blogger Alyssa's Gucci? OMYGOD IT'S AL QAEDA.
Where's My Happy Ending? [Glamour]
Earlier: Dear Alyssa, You Could Stand To Learn A Thing Or Two About The 'Edgy' English Language