Charges are pending in connection with the Heene family's balloon hoax, and the local sheriff says, "We were manipulated by the family, and the media has been manipulated by the family." But was one media outlet actually an accomplice?
While Richard and Mayumi Heene await charges — which could include up to six years in prison and a $500,000 fine — Larimer County Sheriff Jim Alderden says he's considering ""the possibility that . . . some of the media outlets may have had some knowledge about this." He adds, "Let's call it [my statement], short of speculation, that a media outlet was in on the hoax, but let's not discount the possibility." He wouldn't be specific about the outlet, saying only that it was a show that blurs "the line between entertainment and news." The AP asked Gawker (notably not a "show") if it had been involved in the hoax, presumably because of Gawker's exclusive interview with Heene employee Robert Thomas. Gawker editor-in-chief Gabriel Snyder said, "No, that wasn't us."
It's still not clear — and may never be — what "entertainment/news" organization was involved in the Heene's plan, or whether they got involved before or after the hoax was in motion. But Alderden's comments suggest that Falcon Heene may have been at the center, not only of his parents' craving for reality-show fame, but of the media's desire for new weirdos to put on TV. Sadly, both could still be satisfied.
The Heenes are unlikely to go to jail, according to the LA Times, because this is their first offense and because Colorado prisons are suffering from budget cuts. And, according to TV experts (whose very existence seems like sort of a sign of the end-times), their willingness to waste tens of thousands of taxpayer dollars and force small children to lie on Larry King will be no obstacle to their continued fame. Tim Brooks, co-author of "The Complete Directory to Prime Time Network and Cable TV Shows," says,
In terms of what TV will exploit, there are few barriers - and I don't think this crossed any of them. I wouldn't be at all surprised if we see them again.
G/O Media may get a commission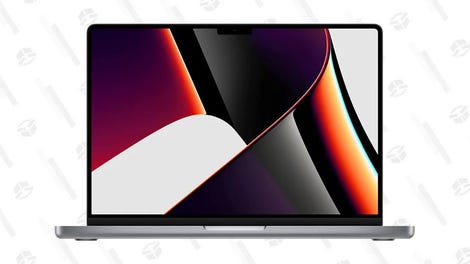 Save $300
2021 14" 1TB MacBook Pro
And Robert Thompson of the Center for Television and Popular Culture at Syracuse reminds us (like we need to be reminded) that reality TV is about "entertainment value," not moral fiber. He says, "'Real Housewives of New Jersey' is incredibly trashy. But it's a trash masterpiece." He does point out, however, that Richard Heene's weird, halting demeanor could stand in the way of his stardom. Thompson says,
On camera [Heene] was so inarticulate you had to wonder if he could put on much of a show. He'd get a question and there were these long pauses. Would we watch 13 episodes of that?
And would we watch 13 episodes of Falcon Heene vomiting? The kid was clearly put through the wringer by being made into his parents' ticket to fame and fortune, and (one would hope) some viewers might turn away out of compassion for a kid who wasn't really old enough to decide whether he wanted to be "balloon boy" forever. It's also debatable whether parents who would put a kid in that position deserve to continue raising him, and earlier domestic violence calls from the Heene household further complicate matters. Child Protective Services is investigating, but the family's lawyer says,
These are, by all appearance, well-loved, well-taken care of, well-adjusted ... little boys. I think unless they have good solid evidence of some sort of child abuse, these children need to stay with parents who love them.
No doubt the Heenes do love their kids, and it's good news that Robert Thomas says the boys weren't afraid of their father. All the same, it's pretty troubling that Heene so readily fed his kids to the reality TV beast, and that this beast was — and may remain — more than willing to gobble them up.
News Money Eyed In Balloon 'Hoax' [NY Post]
In A Jon And Kate World, Richard Heene, 'Balloon Boy,' And Family Have Future On Reality TV [NY Daily News]
Sheriff: Balloon Boy Hoax May Have Conspirators [AP]
'Balloon Boy's' Parents Could Be Charged With Felonies [LA Times]
Lawyer: Balloon Boy Parents To Surrender To Authorities [People]
Lawyer: Balloon Boy's Family Preparing For Arrest In Alleged Hoax Saga [ABC]
Exclusive: I Helped Richard Heene Plan A Balloon Hoax [Gawker]