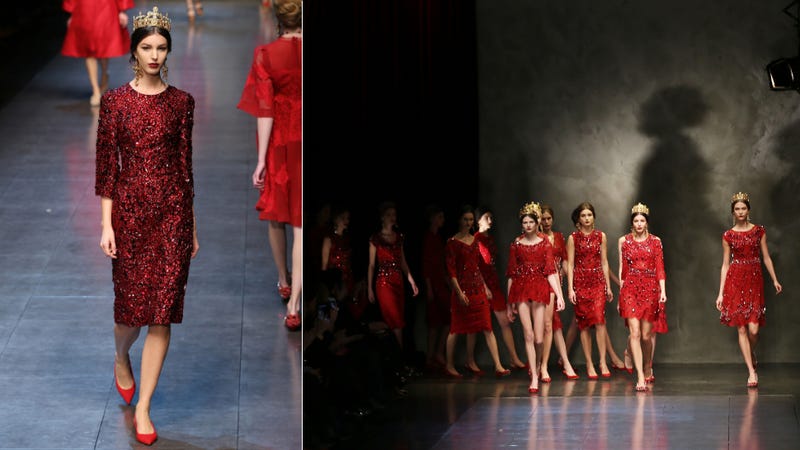 This Dolce & Gabbana dress retails for £32,000, or just under $50K.
Net-A-Porter thinks it can sell six of them, making the dress the most expensive item the online retailer has ever offered for sale. [Guardian]
---
Here is Amanda Seyfried in her first Givenchy perfume campaign. Seyfried replaced longtime face of the brand Liv Tyler. [WWD]
---
This fall, Estée Lauder is launching a new women's fragrance. It's called Modern Muse and Arizona Muse is, appropriately enough, the face. [WWD]
---
• While the recovery work remains underway at the site of the collapsed factory building in Bangladesh, brands who used the factory, the local garment manufacturers' association, and the Bangladeshi government have begun talking about compensation for the survivors and the families of the garment workers who lost their lives. The death toll from the disaster stands at 430, with hundreds of garment workers — the majority of whom are women aged 20 or younger — still missing. More than 520 people are injured, and most of the injured are amputees. So far, of the brands that used the factories the building housed, only Joe Fresh, Primark, the Danish brand PVT, and the Spanish chain El Corte Inglés have acknowledged their role in the tragedy and pledged to compensate victims. Other brands, including Benetton and Mango, have distanced themselves from the disaster, saying they only had one-time orders underway there when the collapse occurred. Meanwhile, survivors and families of garment workers who died in last November's fire at the Tazreen factory outside Dhaka, which supplied Wal-Mart, C&A, Dickies, and other companies, have protested delays in the provision of promised compensation. Out of 112 workers who died in the blaze, only 62 families have received the $7,676 promised by the government. Thirteen bodies have reportedly not yet been identified. [WWD]
• Meanwhile, the Pope has condemned the disaster in Bangladesh as an example of capitalism "going against God." In a May Day homily, Pope Francis called the Bangladeshi garment workers who were forced to return to work after pointing out cracks in the building's structure "slave laborers." He continued:
"Today in the world this slavery is being committed against something beautiful that God has given us — the capacity to create, to work, to have dignity."

"How many brothers and sisters find themselves in this situation? Not paying fairly, not giving a job because you are only looking at balance sheets, only looking at how to make a profit. That goes against God!"

"We do not get dignity from power or money or culture, no! We get dignity from work," he said, adding that many political and economic systems "have made choices that mean exploiting people."
[AFP]
• Last night at the National Magazine Awards, Vogue took the prize for best magazine in its category, "fashion and service" magazines. Anna Wintour said in her acceptance speech, "To those of you who might go home empty-handed tonight, let me give you a word of advice: Just hang in there for 25 years as we've done, and you might get lucky." Condé Nast won four awards out of 27 nominations, competitor Hearst got none for nine nominations. W took the prize for best photography, for its March issue with the twin covers of Kate Moss. [WWD]
• At the premiere of The Great Gatsby, Wintour was asked who intimidates her. "Oh, everybody!" she replied. [E!]
• Givenchy's Riccardo Tisci says that when he started showing his own line in Italy, the government cracked down on him because he was presenting his collection outside the official fashion week, which is controlled by a trade association of designer brands:
"I had been doing in Milan in the punk way—I had been doing shows in a garage, talking about a vision of sexuality, being criticized, being stopped by the Italian government. The police came during my first two shows. All that because I was doing it off calendar, because I was doing it in an illegal place."
• As a college student in the mid-90s, Sufjan Stevens had strong opinions about fashion and style. [BuzzFeed]
• Readers of British Glamour voted Kristen Stewart the most stylish celebrity of 2012. Stewart beat out Kate Middleton and Emma Watson for the honor. [PopSugar]
• Stewart, according to sources, has not ended her relationship with Balenciaga, even though her bestie Nicolas Ghesquière is on to bigger and brighter things (and even though new creative director Alexander Wang offered a very public gesture of support to Liberty Ross when the Stewart/Rupert Sanders infidelity scandal was big news by casting the model in his show). Contracts are contracts, after all! Apparently Stewart has shot a new Balenciaga fragrance campaign for fall. [The Cut]
• Naomi Campbell and her married billionaire oligarch boyfriend Vladimir Doronin have reportedly separated after four years together. [P6]
• CJG, an accessories collection designed by Topshop owner Philip Green's daughter Chloe, will soon be carried in U.S. Topshop stores. [WWD]
• The Museum of the City of New York, which is currently hosting an exhibit dedicated to Stephen Burrows, is screening the documentary Versailles '73: American Runway Revolution on May 16. The doc explores the famous trans-Atlantic fashion competition held in 1973, in which Burrows participated, and which became a historic moment for American fashion and for the acceptance of black models (whom all the designers representing the U.S. used). Models Pat Cleveland, Charlene Dash, and Alva Chinn, who all took part in the show, will be on hand for a panel discussion after the film. [Racked]
• Narciso Rodriguez just added e-commerce to its Web site. [WWD]
• Fashion people are getting piercings in their ears and noses. [Fashionista]
• The Cut has a cute DIY idea: replace (or pay a tailor to replace) the lining on an old vintage jacket with a cute silk print for a spring wardrobe update. [The Cut]