Hey, you know what this recession needs? To encourage us to shop for things we can't really see! That's the message you might get from sopping wet pages of the May Anthropologie catalog:
This is a gorgeous, "editorial" photograph that delights my senses and would make me think of that hazy summer I spent by the lake if I ever did such a thing. As a consumer, though, I just think: I cannot see/understand that dress!!! How do you expect me to pay $168 when I don't even know what the hem looks like?
I've made Virginia Woolf drowning jokes in a catalog post before; now I wish I'd saved them.
G/O Media may get a commission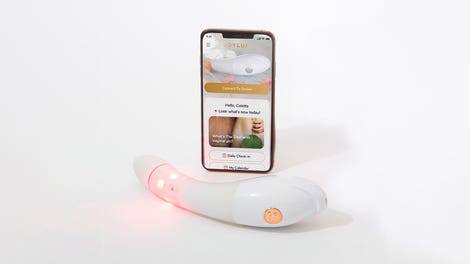 $50 Off
Joylux vFit Gold Device
Oh, too bad. They left this bag in the water so long it accumulated barnacles.
A swimsuit shot underwater makes sense, but — am I crazy or is the fabric color bleeding?
Bet you can't guess what these are! The caption I omitted purposely, so you can just stare at hem agog and question life itself. Give up? Highlight this "hidden" text: They're $88 earrings.
Yes, yes, beautiful shot. But is this a top, a dress, a jumpsuit or a muumuu?
Such a killjoy, I am. All I can think of are the waterlogged samples from the shoot. What became of them?
Oh, and even when the models were not in the water, they were threatening to submerge themselves:
Like this young lady, who is just daring you to whisper, "jump!"
Or this chick, who is contemplating a dip, especially since that dude is like, "It feels so good."
Or these two, who are clearly seconds away from a swim.
Three… two… one… drenched.
Even the furniture is moistened in this catalog.
Now I have to pee.


Anthropologie [Official Site]
Earlier:
Anthropologie "Adorned": Critters & Kids Steal The Spotlight From Bags & Baubles
Anthropologie "Revival": TV-Ready Fall Fashion
Pottery Barn, Anthropologie & West Elm: Bedding Porn For Sleepyheads
CB2, Anthropologie & Delia's: More Bedding Porn For SleepyHeads
Please Do Not Look The Anthropologie Model In The Eye
Anthropologie "Vignettes": Forcing Us To Look Forward To Fall
Anthropologie "Giving": We Love To Hate & Hate To Love It
Urban Outfitters, Free People & Anthropologie: What's The Difference?


Anthropologie Doesn't Care About Black People