There's a story in The New Yorker about the life of Max Factor, the make-up maven whose tale is told in a new book. The article, written by, um, John Updike, details Factor's beginnings as a Polish Jewish fugitive in 1904 Russia, on to his arrival in California and breakthroughs in movie cosmetics. As film changed — from black and white to Orthochromatic to Technicolor — Factor changed the chemistry and formula of his make-up, and eventually actresses started stealing it from the set.The company sold to the public and to Hollywood; it supplied the copper-green makeup that Margaret Hamilton wore as the Wicked Witch of the West in The Wizard of Oz as well as Tru-Color, "the world's first perfect lipstick… non-drying but indelible." Max died in 1938, but his son Frank changed his name to Max, so the business transition was seamless. Unlike some other make-up artists, Max Factor was never painted as an effeminate type, the new book points out: "Photographs of Factor show him simultaneously as makeup artist, chemist, and father figure." Some great old Max Factor ads, below.
Max Factor's "Crushed Rose" lipstick, 1955. Is he going to kiss her or give her mouth to mouth?
Max Factor's "Tru-Color Lipstick," featuring Evelyn Keyes, 1942. Never, ever heard of a "brownette" before. Interesting.
G/O Media may get a commission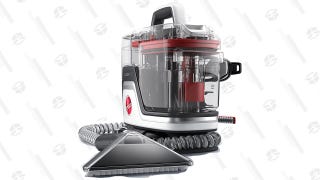 Save $10
Hoover CleanSlate Plus Carpet & Upholstery Cleaner
"Max Factor Hollywood" lipstick, featuring Susan Hayward, 1947. Glamour changes! Clear red, blue red, rose red! Love the gold lipstick tube.
Max Factor's "California Sun" lipstick, 1960. Pastels make me feel queasy, maybe because of Pepto-Bismol.
Max Factor's "Pink 'n Orange" lipstick, 1958. "Got designs on a man? Then this is for you!"
Max Factor's "Pan-Cake," featuring Maguerite Chapman, 1946. Sold, on the jaunty angle of her hat alone. Makeup And Make-Believe [The New Yorker] Face Value (Slide Show) [The New Yorker]