Ever since his tenure as the super studdly if occasionally whiny Jack Shepard on Lost ended, we haven't seen much of Matthew Fox. Well, now he's back in the spotlight after being busted for doing something decidedly un-foxy: driving drunk. Is this an isolated incident or a sign that he's officially lost his way in life?
Fox was arrested at 3:30am on Friday near his home in Bend, Oregon for suspicion of driving under the influence. Not very many details have been released, but it appears to have been alcohol-related and he was apparently on his way to a fast food restaurant. Oof. When you combine this incident with the fact the he got in trouble for punching a the female driver of a party bus in the groin last year, it certainly does not paint the most flattering picture of Fox. Looks like we all need to retroactively migrate to Team Sawyer for life. [TMZ, E!]
---
Uh oh. Tracy Morgan has run into health troubles again whilst traveling in the mountains. He was supposed to perform in Denver this weekend, but instead he was treated at a hospital for "flu-like symptoms and dehydration" on Saturday night and had to cancel his show. Yesterday, he needed to be taken in a wheelchair onto his plane home. It was just four months ago that he collapsed at Sundance. The high altitudes really must not agree with him. Let's hope he improves dramatically once he's back at sea level. [TMZ]
---
G/O Media may get a commission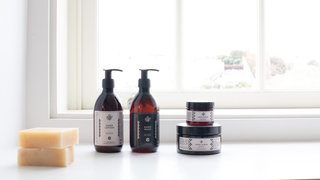 Exfoliate and Hydrate
The Handmade Soap Company
Poor old John Travolta. He can't even try to innocently grope a masseur without getting sued. Wait, whaaat? Umm, yeah apparently a man has come forward claiming he was hired via an online ad for a massage appointment, but once he was at Travolta's bungalow, Johnny T started getting fresh with him, eventually offering a "reverse massage." Travolta reportedly even said, "Come on dude, I'll jerk you off!!!" Oh, brother. The man also alleges that the King of Disco explained that he got where he is "due to sexual favors he had performed when he was in his 'Welcome Back Kotter' days," because apparently, "Hollywood is controlled by homosexual Jewish men who expect favors in return for sexual activity." Yowza. Best of luck digging your way out of this hole, Travolta. [TMZ]
---
Eva Mendes is ever vigilant in her noble quest to keep her relationship with superhero Ryan Gosling under wraps. But, naturally, Ellen Degeneres found a harmless and charming way to broach the topic when Eva appeared on her show: she spoke of how they both loved onesie pajamas and eventually got Eva to blush. She also gave Eva a delightful pair of conjoined onesie pajamas to share with Ryan in the unlikely event that she should run into him. But of course we all know that will never happen because they're not dating. How could they be, because he is somehow dating all of us? [People]
---
The shock of losing Adam Yauch last week has barely subsided for fans of the Beastie Boys, but for the band itself, as you might imagine, this has been an incredibly hard time. Mike D issued a very touching statement via Facebook today, which said in part,
I know, we should have tweeted and instagrammed every sad, happy and inspired thought, smile or tear by now. But honestly the last few days have just been a blur of deep emotions for our closest friend, band mate and really brother. I miss Adam so much. He really served as a great example for myself and so many of what determination, faith, focus, and humility coupled with a sense of humor can accomplish. The world is in need of many more like him. We love you Adam.
Aaand now we're getting weepy all over again. [MTV]
---