Raised in a world where feminism guides us to believe that we can accomplish anything we want if we just put our minds to it, it must be a big disappointment to get slapped in the face with something as uncontrollable as the limitations of biology. Especially if you're the daughter of someone as accomplished as Martha Stewart. Alexis Stewart, 42, opened up on Tuesday's Oprah about her fertility struggles, confessing that she spends a whopping $28,000 a month on fertility medication and procedures. (Martha's helping with the bills, naturally.) And while we tend to think that such a large investment of time and money is both silly and selfish considering the amount of needy children in the world, we were interested in some of the points that Stewart brought up, namely how celebrity magazines, by repeatedly presenting us with stories of successful women who've put off raising a family until their 40s or 50s, have created a "false illusion for women."
We're only hearing the great stories. Very few people can have their own baby at 45. They are probably using surrogate eggs.
Or at least in-vitro. Have you noticed the crop of fraternal twins popping up for "older" women in Hollywood (Jane Seymour, Geena Davis, Julia Roberts, Nancy Grace, J. Lo)? And we say "older" because fertility begins to decline at the age of 28!
The idea is most likely perpetuated that these famous pregnancies are the result of traditional penis-in-the-vagina sex, because there's a stigma attached to infertility and the use of surrogates, probably because it indicates that one is "old" or "dried up." But really, it's not shameful at all.
Obviously, we shouldn't give up our dreams and careers and jump on the baby fever bandwagon, but a little education and information never hurt anyone. Because even if you can't imagine having children in your life, you don't really know how you'll feel in 10 or 15 years. (After all, some of us have said we'd "never ever" do a lot of stuff that we eventually did, like anal sex, for example.) If women have this knowledge at a younger age, when their eggs are still viable and not "dry and crusty" like Alexis Stewart's, then maybe they can plan better for the future. (Or not. Freezing and storing eggs is expensive: the process costs between $9,000 and $15,000, and about $350 and $500 a year for storage.)
For now, Stewart is treating her infertility like a job (the apple doesn't fall far from the tree), and will weigh her other options when her doctors tell her it's time to move on. But she said that even Martha thinks she was "silly for waiting."
G/O Media may get a commission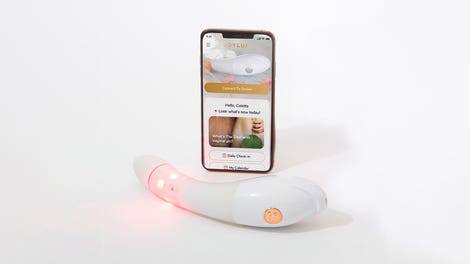 $50 Off
Joylux vFit Gold Device