Mark Wahlberg has found himself in an mess of his own making. In an interview with Men's Journal, he spoke about how he was supposed to have been on one of the planes that hit the World Trade Center on 9/11. Apparently he thinks that action stars have the same powers in real life as their characters do in the movies, because he made a pretty outrageous claim about how he'd have handled the hijacking.
If I was on that plane with my kids, it wouldn't have went down like it did. There would have been a lot of blood in that first-class cabin and then me saying, "OK, we're going to land somewhere safely, don't worry."
Oof. That is definitely one of those things you're better off thinking in the privacy of your own head, if at all. But Wahlberg said it outloud—to a magazine—and now Deena Burnett-Bailey, the widow of one of the men who stormed the cockpit on Flight 93, is condemning his remarks:
The plan for Flight 93 was foiled by heroes. For him to speculate that his presence on board could have stopped everything is silly and disrespectful. Sounds like someone is grandstanding.
He's now apologized, calling his statement "irresponsible." He told TMZ, "To speculate about such a situation is ridiculous to begin with." Indeed it is. And now Marky Mark, you are forever tainted in our minds. [Observer, TMZ]
---
G/O Media may get a commission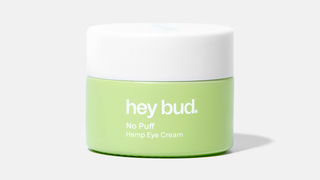 15% off
Hey Bud - No Puff Hemp Eye Cream

Despite long-running rumors about his sexuality, Rosie O'Donnell says she's pretty sure Tom Cruise is not gay. How does she know? Well, here's how she explained her reasoning to Piers Morgan:
I've been around Tom Cruise a lot. Tom Cruise drives race cars, Tom Cruise is... I do not think Tom Cruise is gay. I have never thought Tom Cruise is gay.
Well, if that isn't some rock-solid logic, then I don't know what is. I mean think about it. Have you EVER known a gay person who's into cars? [Buzzfeed]
---

Katherine Heigl and Josh Kelley's daughter, Naleigh, is being thrust into the spotlight by her parents—whether she likes it or not. Her dad has a new music video out, for the song "Naleigh Moon," in which he uses images of his three-year-old daughter. And last night, when Katherine Heigl was on Jimmy Kimmel Live, she brought Naleigh out on stage during her interview, saying of her, "She's very hammy. She likes applause." But the toddler seemed very skeptical of the whole experience. [USA Today, E! Online]
---

Man, Barack Obama is quite the birthday greeting machine these days. First, he sent the cutest video ever to Betty White. And now Zooey Deschanel—who shares her January 17th birthday with Ms. White and Michelle Obama—tweeted that he sent her a happy birthday letter. Before you get all riled up thinking he's trying to recruit her for his celebrity re-election cabal, remember that her website, HelloGiggles, does some work with the White House. So it was probably done more in the spirit of a professional courtesy than VIP ass-smooching. [HuffPo]
---
Speaking of Michelle Obama's birthday, the First Couple went out to a nice celebratory dinner with friends at BLT Steak in DC, where they did not order any of the restaurant's politically-themed burgers. (The Obama Burger, the 1% Burger, the 99% burger, etc.) Instead they had steak and a bunch of delicious-sounding sides and capped the night off with some red velvet cake. Mmm, cake. [Eater]

It looks like Prince Harry has plans to climb Mt. Everest. After going on an expedition to the North Pole last year with Walking with the Wounded, a charity for soldiers that he's involved with, he promised to join back up with the group to climb Mt. Everest. And now it looks like it will be happening in April or May, if his military commitments allow. That's cool, though it will probably upset a lot of Harry Hunters out there who'll have difficulty tracking his every move when he's in such a remote location. [E! Online]

Oh, Liam Neeson, you can make almost anything sound appealing, except for this one thing: The actor has said that he ate wolf jerky—as in the meat, from the animal—to prepare for his role in The Grey. He said it "was quite nice." We'll have take your word for it. [E! Online]

After reports surfaced that Adele's boyfriend, Simon Koneck, was still married, Adele has set the record straight on her blog:


This is the first and last time I will comment on the details of my relationship with Simon. Contrary to reports and headlines in the press today, Simon is divorced and has been for 4 years. Everyone in our lives separately and together wish us nothing but the best, and vice versa.

Duly noted. [MTV]

Did Steve Carrell, disguised under a bushy beard, make a cameo on the most recent episode of the office? He might have, but you'll have to judge for yourself. [E! Online]

If you're in the mood for some laughs, Rachel Bilson has made a pretty amusing, profanity-laden rap video for Funny or Die. [Just Jared]

Color us all excited: Paris Hilton is reportedly working on a second album with producer Afrojack. [Life Files]

Drumroll, please! It's time to meet the new Bachelorette. It's Emily Maynard, who got engaged to Brad Womack back in March on The Bachelor and is now ready to find love again after their split. Apparently she's in this for real: "She's looking for a man — not a little boy." Gentlemen, start your engines! [Yahoo!]

Oh no, Country legend Merle Haggard, 74, has pneumonia and has had to cancel his tour. He's being treated at a hospital in Georgia. Get well soon, Merle! [AP]

Some sad news for The Voice star Blake Shelton: His father passed away yesterday. [E! Online]