Harley-Davidson's Veteran's Day ad campaign — currently plastered all over YouTube's homepage, among other properties — indulges in some very thorough Photoshopping of model Marisa ("Barbie Toe") Miller.
Ana Gasteyer Satirizes the Girl Boss in 'American Auto'
Miller, famous for her work for Victoria's Secret, apes classic cheesecake poses in the campaign. The ads — or, excuse me, the "Salute From the Home Front to Those Who Defend Freedom" — are slated to run all month. (In fact, in a neat bit of corporate-branded patriotism, Harley-Davidson has re-named November "Military Appreciation Month." Traditional festivities apparently include ogling half-naked models in uncomfortable poses.) But is it just us, or is there something a little bit off about the appearance Miller's waist in the picture of her in profile, on the far right of the YouTube homepage banner?
G/O Media may get a commission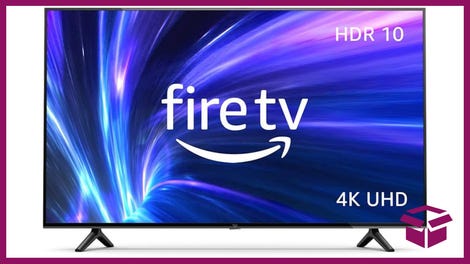 42% Off
Amazon Fire TV 50" 4K Smart TV
As a tipster put it, maybe Photoshop is supposed to be patriotic now? Perhaps we should be thankful the retoucher at least left her whole hip intact.
In still images from the campaign, Miller's waist looks to have been similarly whittled. In fact, her head looks as wide as her rib cage.
Which is funny, because in the attached campaign video, we see footage of Miller posing for what seems to be the very same picture — she is saluting, wearing the same shoes, hairstyle and cap, and a similar outfit. (Clothes can easily be changed in post-production programs like Photoshop; it wouldn't surprise me if the belted beige leotard Miller wears in the final version of the picture was drawn on.)
And, again in the video, the camera even zooms in for a second on that unretouched image on the monitor at the shoot.
Funny, Miller really looks much better in these than she does in the over-processed end result.
Images like these, or Annie Leibovitz's photomontages, or the recent Ralph Lauren ads that have caused so much consternation, immediately jump out at the viewer because they ring false. We've seen bodies before: we all know nobody is built like that. The people responsible for the images know they're unreal. We know they're unreal. So why do marketers continue to assume we will buy products associated with pictures we fully recognize to be false?
We imagine female members of the armed services would be among the many upon whom the charm of such a campaign is lost.
YouTube [Official Site]
Harley-Davidson Military Appreciation [Official Site]
Marisa Miller & H-D Salute Those Who Defend Freedom [YouTube]
Earlier:
Ralph Lauren's Ridiculous Photoshop, More Ridiculous Rage
Ralph Lauren Fires Photoshopped Model For Being Too "Fat"
Ralph Lauren Fires
Yet Another Ralph Lauren Photoshop Of Horrors
Vogue's November Cover: Photoshop Of Horrors
ANTM: The Importance Of "Barbie Toe"
The Curious Case Of Demi Moore's Left Hip