Renowned painter Marilyn Minter has been fundraising for Planned Parenthood for the past several years and has recently released a collaboration with Miley Cyrus and Marc Jacobs to benefit the organization. In a new interview with Artsy, the always fascinating Minter sat down to discuss her thoughts on reproductive rights, politics, and sexism in the art world.

Speaking with Alexxa Gotthardt, Minter—whose career retrospective will come to the Brooklyn Museum this fall—explained how most female artists have had to scramble for recognition that they'll likely never achieve.
"Well, women still either have to be dead or practically dead to achieve the kind of success their male counterparts do—the one exception is Cindy [Sherman]," she told Gotthardt. "We have to support one another—I think that's the solution. My generation didn't do that, but it's been something I've been fighting for for a long time."
(Minter received tremendous criticism from feminists in the '90s for her Porn Grids, a series of paintings depicting graphic pornographic scenes that she—herself an outspoken feminist—described as "taking images from an abusive history and trying to reclaim them.")
Minter, a lifelong activist, described her current work for Planned Parenthood thusly:
[In 2014], laws were being passed that were shaving women's right to make their own choices with their bodies. We hadn't had to worry about that kind of thing since Bill Clinton was elected—we thought that war was over. Laurie [Simmons], Cindy [Sherman], and I—and so many others—worked so hard for abortion rights in the '70s and '80s, and all of a sudden that work started to unravel. Planned Parenthood has been attacked more in the last 2 years than in the last 20.

I remember hearing a radio segment, while working in the studio, that detailed how officials were trying to systematically—and quietly—eliminate individual Planned Parenthood centers throughout the country by tweaking state laws so that it'd be harder and harder and harder for them to operate—and it was working. I was incensed. But soon after, people—and public figures—started getting behind Planned Parenthood publicly. Lena Dunham was one of the first, and all the women who contributed to her PSA, and then Miley [Cyrus], and now Marc [Jacobs]. Maybe he'll convince other companies to support, too. Marc doesn't give a shit [about offending people], just like I don't. Artists don't care about pushback. Back in the '60s, Richard Serra made anti-Vietnam posters.
G/O Media may get a commission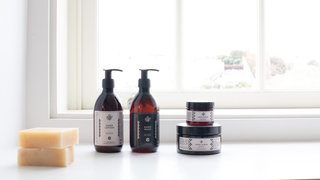 Exfoliate and Hydrate
The Handmade Soap Company
As for why she's chosen to partner with Cyrus, Minter says she admires the pop star's commitment to causes and the reach she can obtain with her fame.
"...She's an activist. And because we were trying to bridge the generation gap by involving a young star with young fans—she has 40.5 million Instagram followers," Minter explains. "She's been famous since she was 11 and she's a great artist, so she doesn't care about making money—she wants to give back."
Minter also shared this funny/tragic anecdote from when George W. Bush won the presidential election in 2004:
"When Bush won the election I sat in the fetal position playing Bejeweled for four hours."
You can read the entire interview here.
---
Images via Instagram/Marilyn Minter.