Although Beyoncé is on the cover, thanks to a tipster, we discovered that inside, the June issue of Marie Claire is disappointingly racially insensitive:
The problem, specifically, is a story titled "15 Years Of Skin." The concept is explained thusly:


"In honor of MC's 15th anniversary, this month we're celebrating a decade-and-a-half of wow-worthy skin. From stars peddling zit zappers and foundations to tanorexics and bronzer-phobes, here's how we put our best face forward."


The "story" is a photo-driven piece in three pages:


Page one: The '90s!



G/O Media may get a commission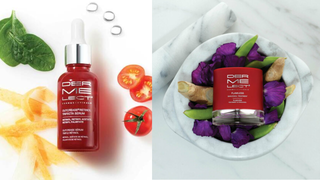 Save $19
Retinol Renewal Kit
Page two: The early '00s!



Page three: Now and next!


To recap: The '90s was about "ghostly faces"; the '00s was the "rise of the bronzed bombshell," and now, pale is in again — "fair ladies" have "porcelain-pretty" complexions. And even the future is about being light: Fall '09 is "got sunblock?"
So what if — heavens forbid! — your skin is brown? You are represented, in the '90s, by Iman, Halle Berry, and RuPaul. Who is a man. Mariah Carey? Sure, she's half black, but she's bronzed. Also, Marie Claire apparently doesn't even recognize that Asian people have skin.
One interesting thing about this story is that on the three pages that face it, there is a three-part, three-page ad for Olay Pro-X products. It's almost as if the "15 Years Of Skin" story was whipped up at the last minute to support the advertising — something the magazines I have worked for were known to do. Too bad Marie Claire couldn't pull together a story that was a little more inclusive.
Earlier: May Marie Claire: Starlets, Hormones, & Porn Star Preachers
Marie Claire: Be A Green Recessionista With More Stuff!