I usually find it lazy to begin writing with a disclaimer, but I'm already breaking my rules by writing about my face, so here goes nothing: My name is Maria Sherman, and I'm product-phobic.

I've always been this way. My Puerto Rican mother was blessed with perfect, softer than a cloud, hazelnut skin (perhaps due to her fairly conservative young adulthood—she's never picked up a cigarette, drank more than three drinks in one sitting, seen a drug, stayed out past 9:30 p.m., been outside, etc.) and for some reason, I've banked on genetics to get me through life as a baby butt-faced beaut. If that's the name of the game, I failed to include my father's DNA in the equation—that fair skinned, blue-eyed yank is perpetually pink with a light sunburn and who knows what lies beneath his beard.
This is all relevant: Over the weekend I took a last-minute flight to accompany my mother to a few oncology appointments (she's been in remission for six months now, cancer can kiss my fat ass!!!) in Texas, where my parents recently relocated from the perpetually soggy Pacific Northwest. That wet climate probably had some effect on my skin/face/brain, and now, Tejas is a whole new landscape—a dry heat that requires being mindful of my largest organ's wants and needs. I'm no expert and have an extremely limited understanding of how to deal with shotgun-happy desert hell, and so I really, truly, underestimated its effect on my poorly-attended-to skin cells. It was a disaster.
Morning
It's about 7 a.m., and there's a westie puppy here, so I am awake. I run to the bathroom, where the puppy is also present. I pet him. I wash my hands. Then I wash my face with water and Tea Tree Clearing Facial Wash, because it's what is available to me via my mom's bathroom. I usually opt for whatever face-friendly soap item is around (at home, it's a Dove Moisturizing Bar) and new scenery ain't gon change me.
G/O Media may get a commission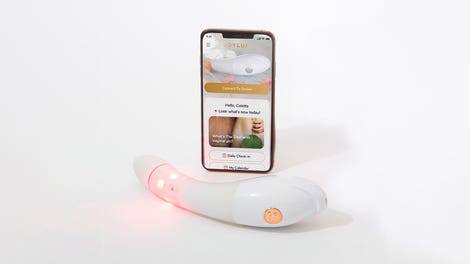 $50 Off
Joylux vFit Gold Device
My face, for most of my life, has been remarkably free of blemishes, save for a brief acne phase in my tween-age, when I burned off my puberty skin and was born anew through many, many semesters of obsessive Clearsil Rapid Rescue use. When I started experimenting with smoking cigs in my 20s, however, that changed; my skin started to suck and I became loyal to Clean & Clear Morning Burst Facial Cleanser in the a.m., and Clean & Clear Night Relaxing Deep Cleaning Face Wash before bed. Unfortunately neither are available to me right now, so I'm positive I'll turn an unattractive peach soon. But look! I remembered Cetaphil Foaming Face Wash for redness-prone skin! All is well.
Next, I apply Equate Scar Gel to the scar on the top right corner of my fivehead—after butchering baby bangs onto a face that cannot support the shape, I've taken to straightening them for length, which lead to me placing a 400 degree iron directly to the skull. It's healing nicely—your skin has a certain plasticity to it that can not be undervalued—but it, too, requires a product. If only I took my co-worker Ecleen Caraballo's advice and embraced my natural curls. (I do on occasion, but it's an ongoing process.)
I also apply Crest Noticeably White Whitestrips to give my teeth a false, but illustrious, shine.

When it's approaching time to get dressed, I slather on deodorant. I have no brand loyalty, because I'm not a capitalist shill, so I use whatever is most affordable and can handle my sweaty, sexy bod. Today, it's Arrid Extra Dry, a spray can deodorant that is almost too fun to apply: like graffiti for your pits. I've been known to steal my boyfriend's Gillette Cold Wave Clear Gel Men's Antiperspirant in the past, too, which is great because it's about half the cost of smelly-good stuff marketed towards women. (You've probably seen a commercial for the pink tax—that shit is real and not just a sub-plot on The Bold Type.) This is a new smell for me, but boy is it grand.
I then grab the iconic blue cylinder of Vicks Vapor Rub and dap some on my chest, because I'm Latinx and my abuelita told me to do that when I'm not feeling well (who told her abuela, who told her abuela, up until the product's origin, which was probably at the hand of an abuela.) Also, I'm not feeling well.

I remove the white strips.
Makeup time! Here's where I really fail. I understand, in my heart, that there is a difference between name-brand products and drug store shit. I know it. But I'm in the middle of a huge-ass state, and I didn't bring any makeup because I'm mostly here to binge-watch Bourdain episodes and cry with my mom, but I'm doing this diary, and women in the South fucking Bring It to go to the Cracker Barrel so I feel so out of my element, okay? Unfortunately the only makeup-metropolis near-ish that my parents agree to drive out of their way for is Walmart, so L'Oreal Telescopic Liquid Eyeliner it is! (This was so shitty I cannot believe it was ever smeared close to my precious eyeballs. The "liquid" itself felt more like an amorphous solid. I wasn't sure I was applying it with a brush or a pen, and the lack of scientific logic was enough for me to immediately remove the gunk.)
Next up because I never learn: L'Oreal Voluminous Primer & Mascara. I'm not a fan of the two-step process, but this shit feels like feathers tickling my biologically indistinguishable eyelash nubs and feigns volume and length just enough that I feel like a queen (or at least, someone who looks like they've actually sat through an entire YouTube tutorial before.) It very much makes up for the fact that I will never, ever use the garbage eyeliner ever again. Maybe it's ruined the coveted cat eye look for me forevermore. Who KNOWS.
Next and final stop—lips. Note: I don't use concealer or foundation or anything of the like presently because I'm trying to heal my face scar (scarface, if you will) and also because I don't know how to use said products. I'm a 26-year-old infant. And it's hot outside, why would I want to dress my face in more shit? I've elected to apply a Jeffree Star Cosmetics Velour Liquid Lipstick (in the Celebrity Skin shade.) I got it for free, it's vegan, and it works really well. I always get compliments on it and again, it was free.

After clothing has been stretched over my form, I apply Marc Jacobs Daisy perfume. It's a basic-ass scent I've been using so long, when I first gravitated towards the stuff it was only slightly basic. Now I smell like every normie at the mall. That's called acclimating.
Before I head out the door, I apply a liberal amount of Body Glide to my inner thighs where they touch, because I'm a thicc bich who cannot standing even the slightest chaffing. BG first entered my life just one month ago when I took the advice of Jezebel's own Megan Reynolds, and I cannot believe I lived without the stuff for so long. (Before then, I simply avoided movement until the temperature dropped below 75 degrees.)
Afternoon
I'm eating a salad. The lip stain doesn't rub off but I reapply a bit for dramatic effect. I am an obsessive hand-washer (I'm never sick!) so after I wash up post-lunch, I apply Neutrogena Hand Cream. It's nice!
Nighttime, My Time
On our way home from dinner at Arepitas, a Venezulan restaurant in the middle of nowhere (Killeen, TX, a town which military families have not-so-sincerely dubbed "The Great Place"), where they pile avocado halves on tostones, my mom hands me Aveeno Moisturizing Lotion. I start to apply it in the car, because I'm a monster. A smooth, smooth monster.
Bed Time, Also My Time
My face is Christina Aguilera ft. Redman dirrty, even after I wipe all the muck off my face with Neutrogena Makeup Remover Cleansing Towelettes. I wasn't even outside that much! But because I'm at my parents' abode, it's time to get comfy and use a face mask. I realize this is something many, many, many humans do on a regular, if not, daily basis, but I've never been so much into "self-care" as I am "hedonistic self-destruction." I place a Life of Beauty Biocellulose Mask: Charcoal and Seaweed Mix on my face. It smells like cucumber, which freaks me out, because it's not in the title of the mask. There's also the promise of 98% natural ingredients, which makes me really concerned about the other 2%. After 20 minutes, I remove it, and I am free.
So long and goodnight.