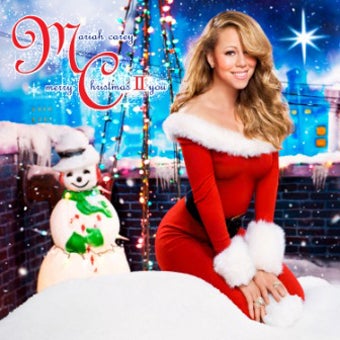 The cover art of Mimi's second holiday album, Merry Christmas II You, has been released, and it would appear that the diva's figure has been trimmed down to how it appeared 16 years ago on Merry Christmas.
And while the album cover might reflect Mariah's old body, it also reflects her new sound, depicting the singer in a more urban setting, on a rooftop with an antenna serving as a makeshift Christmas tree, as opposed to the serene, snowy white rustic background of her first Christmas album, released in 1994, when she was still with ex-husband/record exec Tommy Mattola, who reportedly pushed her to market herself to a Caucasian audience, and disapproved of her predilection toward infusing hip hop into her music. So, it can be reasonably assumed that the rerecording of "All I Want for Christmas Is You"—the holiday hit, which Mariah composed, that has hit #1 on Billboard's Hot 100 Singles Recurrents every year since 2005—will have a guest rapper or two on it.
In addition to that rerecording, Merry Christmas II You—the singer's 13th studio album, on sale November 2—will feature four original songs penned by Mimi (including one called "Oh Santa") as well as seasonal classics like "The First Noel," "Little Drummer Boy," "O Little Town of Bethlehem," and "O Come All Ye Faithful."
Mariah's Merry Christmas II You In-Stores November 2 [MariahCarey.Com]