Mariah Carey is furious at American Idol execs for courting Nicki Minaj as a possible judge. Apparently she was under the impression that she would be the only woman on the panel, and insiders say that a two-vagina judging panel would certainly throw viewers for a loop, so it's obviously all still in talks. Because it's unclear whether Randy Jackson is resuming his gig as a judge or just mentoring, there's also some speculation about whether we'll see a 2-woman, 2-man 4-person judges table.
If you didn't fall asleep just then, Mimi was mad enough to hang up on producers when they told her, and then I imagine she vanished in a POOF of butterflies, sparkles and smoke. [VH1, TMZ]
---
In which Maggie Gyllenhaal pontificates on babychanges:
I used to be judgmental of the way other people would parent. I would look at someone talking on a cell phone while her baby was asleep in a stroller and think, "How can that mother have her cell phone out?" Then you actually have a baby and you're like, she's sleeping; I have 10 minutes; I'll make three phone calls. I think so much of my judgment - not only about how people parent, but about people in general - went away when I became a mom.
G/O Media may get a commission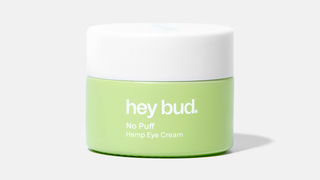 15% off
Hey Bud - No Puff Hemp Eye Cream
What about using your baby AS a cell phone? WHY AREN'T I GETTING ANY RECEPTION? [Scholastic]
---
Since being introduced by mama hen Reese Witherspoon, Leonardo DiCaprio has offered to take Robert Pattinson on a boys trip to Puerto Rico to forget all about that what's-her-name with the help of la Piña Colada. DiCaprio is booking a mansion at a "secret location" on the coast, and has "kept an eye on Rob's career ever since people started calling him the next Leonardo DiCaprio." A little, uh, megalomaniacal, but OK! This does fit with my theory that DiCaprio is quietly expanding in ego and body weight until he is the next Orson Welles. [The Sun]
---
Cher! Cher! Cher is getting married to a former Hell's Angel named Tim Metvetz. Along with finding what is likely the only Hell's Angel named "Tim," Cher has climbed Mount Everest with the dude and plans on getting hitched at a dimestore chapel in Las Vegas. The two were set to wed in 2008, but she was too busy. Gypsies, tramps, thieves and a stoned-as-fuck Gregg Allman will likely be in attendance. [National Enquirer]
---
Prince Harry and Ryan Lochte had a late-night swimming race in Las Vegas and this is the video. Let the slash fiction commence. (If it hasn't already.) [NYDN]

---