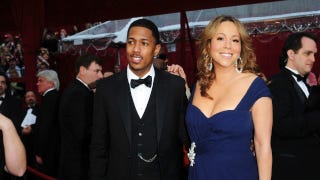 A representative for Mariah Carey and Nick Cannon confirmed that the singer gave birth to twins today at 12:07 EDT at an unnamed hospital in Los Angeles:
The singer's daughter was born first, weighing 5lb 3oz, followed closely by a boy, weighing 5lb 6oz.

"My wife just gave me the most incredible anniversary gift ever in life!" Cannon tweeted earlier today. "I won't ever be able to top this!"
In an interview that took place earlier this week, Cannon told Ellen DeGeneres that his wife could go into labor "at any minute".
But perhaps the best thing about the news is this:
The statement also revealed that the pair listened to Carey's 2005 single 'We Belong Together' shortly after the births.
According to reports, the couple has yet to name the twins, and are expected to renew their wedding vows tomorrow, as they have been married for three years today.
Mariah Carey gives birth to twin babies [DigitalSpy]